India Hindu group prays for Donald Trump win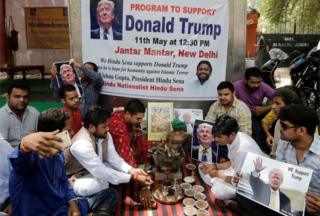 Republican presidential candidate Donald Trump has gained some unlikely fans - including a right-wing Hindu group in India.
Members of the Hindu Sena held a prayer in support of Mr Trump winning the US presidential election.
The little-known group said they supported Mr Trump "because he is hope for humanity against Islamic terror".
Mr Trump has proposed a ban on Muslims entering the US - drawing widespread criticism at home and abroad.
He has also advocated killing the families of terrorists and invading Syria to eradicate the so-called Islamic State group and appropriate its oil.
Around a dozen members of Hindu Sena lit a ritual fire and prayers in a park in Delhi on Wednesday, and hung a banner declaring their support for Mr Trump.
The American Hindus, Muslims and Sikhs backing Trump
Surrounded by statues of Hindu gods, they threw offerings such as seeds, grass and ghee (clarified butter) into a small ritual fire.
"Only Donald Trump can save humanity," Vishnu Gupta, founder of the group, told the Associated Press news agency.
He also told The Indian Express newspaper that the group had planned "several events to express its wholehearted support for Mr Trump".
The nationalist group has previously been known for vandalism and assault, attacking the office of a political party in 2014, and spraying a legislator who protested against a ban on eating beef.
---
Would Indians visit a President Trump's America?