India and Iran sign 'historic' Chabahar port deal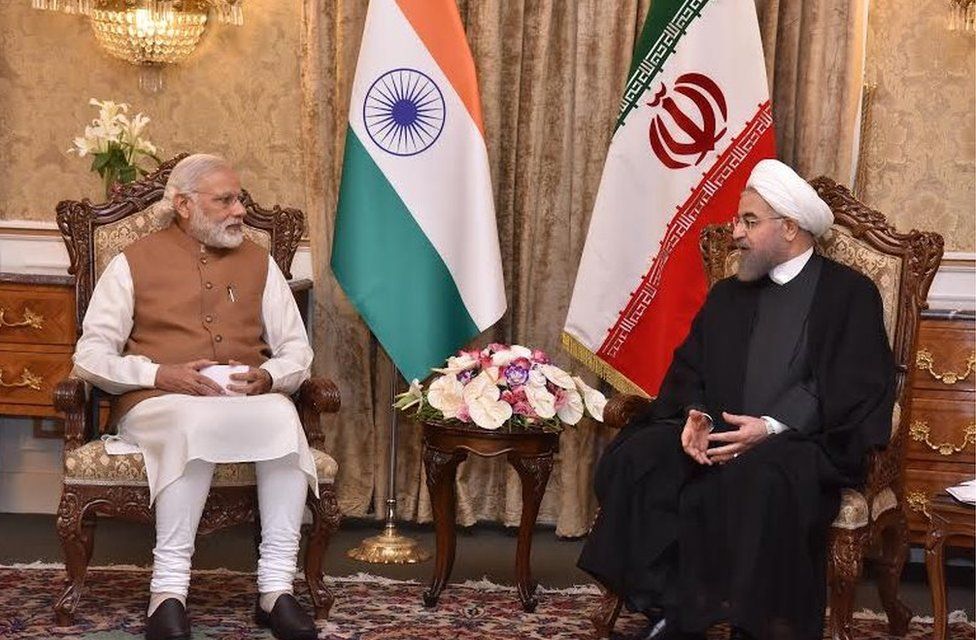 Prime Minister Narendra Modi has announced that India will build and operate a key Iranian port after his talks with President Hassan Rouhani.
India would invest $500m (£344m) to develop the strategically important Chabahar port, close to Iran's border with Pakistan, he said.
The port would open a transit route to Afghanistan and Central Asia for Indian goods and products, avoiding the land route through Pakistan.
Mr Modi began his Iran visit on Sunday.
Delhi also wants to bring gas from Central Asia to the port and then transport it to India.
"The bilateral agreement to develop the Chabahar port and related infrastructure, and availability of about $500m from India for this purpose, is an important milestone. This major effort would boost economic growth in the region," Mr Modi said.
Mr Rouhani has welcomed India's investment.
"Considering all the credit lines that are going to come from India into the Chabahar port, it can very well turn into a very big symbol of cooperation between the two great countries of Iran and India," Mr Rouhani said.
Iranian newspapers have highlighted the strategic and economic importance of Mr Modi's visit.
"India wants to challenge China's power in central and South Asia through Chabahar port," Iran newspaper says.
Noting that China is "trying to control the pulse of regional trade by making extensive investments in the Pakistani port of Gwadar", the paper says that India is "now positioned against its strong competitor by investing in the port".
Referring to India's "immense need for energy", the paper goes on to say that Iran is "capable of fulfilling" this need.
E'temad newspaper adds that Mr Modi's visit and the signing of agreements on joint projects, energy and connectivity "will ring danger bells in Islamabad, China and Riyadh".
The business daily, Ta'adol, welcomes cooperation with India but also reminds its readers of "setbacks" that Iran has faced due to India.
"We should raise our complaints… and ask them [India] to be more honest in their trade with Iran, and to fulfil their obligations more seriously," the paper says.
Compiled by BBC Monitoring's Tarique Ata
India's Transport Minister Nitin Gadkari said the port would boost India's trade ties with Iran, Afghanistan, Central Asian nations and Russia.
"The distance between Kandla (in the western Indian state of Gujarat) and the Chabahar port is less than the distance between Delhi and Mumbai, and so what this agreement does is to enable us quick movement of goods first to Iran and then onwards to Afghanistan and Russia through a new rail and road link," he told the PTI news agency.
Correspondents say that the deal will also help India counter the growing influence of China, which has invested in Pakistan's Gwadar port, in the region.
Meanwhile, the two nations also signed agreements to cooperate in aerospace, biotechnology, nanotechnology and counter-terrorism.
India and Iran share centuries-old cultural and linguistic ties, but their relations have suffered several setbacks in recent years.
Iran was unhappy when India supported an International Atomic Energy Agency resolution condemning Tehran's nuclear programme in 2009. India also reduced its oil imports from Iran in the following years.
Indian companies now see the country as a great investment destination after international sanctions were lifted against Iran last year.