India traffic chaos sparks Twitter humour from bored commuters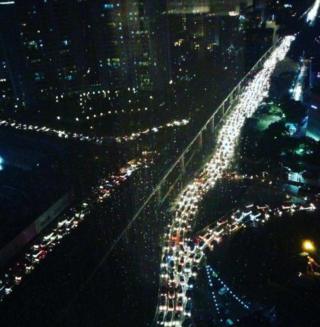 Thousands of frustrated commuters have resorted to Twitter after heavy rains brought the city of Gurgaon near the capital Delhi to a standstill.
Commuters were stuck in traffic for up to eight hours on Thursday night. Logjams continued on Friday.
Twitter users heavily criticised politicians for neglecting the city's infrastructure and drainage system.
Home to scores of top multinational firms, Gurgaon is popularly called India's Millennium City.
One commuter told the BBC that he took seven hours to drive 35km (21 miles) to reach his home in Delhi on Thursday, a commute that would usually take a little over 60 minutes.
Reports say traffic jams continued on several key roads even on Friday morning.
Meanwhile, the government said that officials were "working hard" to clear traffic jams and water logging in the city on Friday.
And with little else to do but sit, many commuters directed their creative energies toward Twitter instead.
Meanwhile, some Twitter users praised Gurgaon police for trying to clear the jam.