India low-caste Dalits protest over Gujarat attacks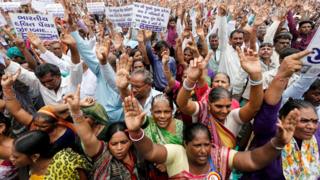 About 25,000 member of India's low-caste Dalit community have rallied in the western state of Gujarat in protest at attacks on their members.
Anger among Dalits has been mounting since four young men were stripped and beaten in public as they took a dead cow for skinning earlier this month.
Protesters pledged to boycott some of their traditional tasks, including the disposal of dead animals and manual cleaning of sewers.
Cows are considered sacred by Hindus.
Killing them is banned in Gujarat, although villagers said the animal that sparked the attack on the youths had died of natural causes.
The organiser of Sunday's protest, Jignesh Mevani, told the crowd that Dalits needed firearms to protect themselves.
"Neither the BJP nor Congress will come to our help," Mevani said. "Only our united strength will help us fight the age-old oppression."
Dalit leaders also told the rally that a 24-year-old man who had taken poison to protest against the attack on the youths had died of his injuries in hospital on Sunday.
Descent into hell: Mumbai's dehumanised sewer workers