India and Russia to sign air defence deal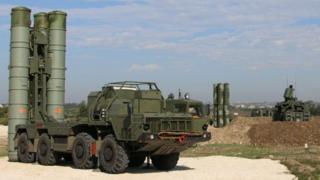 Russia and India are expected to sign a deal on Saturday for the delivery of an advanced air defence system to Delhi, a Kremlin official has said.
The S-400 missiles are Moscow's most sophisticated aircraft defence system.
Yuri Ushakov said the agreement would be signed at a summit in Goa where President Vladimir Putin will hold talks with Indian PM Narendra Modi.
India is also hosting a Brics summit in Goa this weekend involving Brazil, Russia, India, China and South Africa.
"An agreement on the delivery of S-400 'Triumph' anti-missile defence systems and other deals will be signed as a result of the talks," Russian news agencies quoted Mr Ushakov as saying.
Russia's missiles send robust signal
The Kremlin earlier this week said the talks with Mr Modi would focus on "a wide range of matters of bilateral relations, especially trade and economic ties".
The S-400 surface-to-air missiles have been deployed to Syria, where Russian forces have been operating in support of the government of President Bashar al-Assad.
Russia and India were close allies during the Cold War, but recently the relationship has become more complex.
Talks have been held annually since 2000 and hosted alternately by Moscow and Delhi.