Many die in India stampede on way to Hindu religious event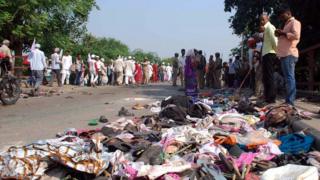 At least 24 people have died in a stampede as tens of thousands of people attended a religious event in the northern Indian state of Uttar Pradesh.
Twenty others were injured in the crush, on the outskirts of Varanasi, a town sacred to many Hindus.
A police officer said that 3,000 devotees were expected at the event but 70,000 showed up.
Some of the injured people are in a serious condition in hospital. Of the 19 dead, 14 are women.
Raj Bahadur, one of the organisers, told the Press Trust of India news agency that after police started turning people back from an overcrowded bridge, a rumour spread that the bridge was broken and people started to run for safety.
According to The Times of India, Prime Minister Narendra Modi has announced 200,000 rupees (£2,460; $2,997) compensation for the families of the dead.
"I have spoken to officials & asked them to ensure all possible help to those affected due to the stampede in Varanasi," Mr Modi tweeted.