Thirteen killed in India factory fire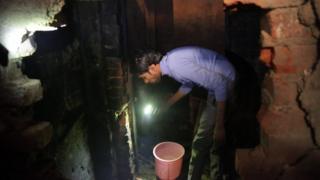 At least 13 people have died in a fire that broke out at a garment factory in the northern Indian city of Ghaziabad.
Police said three people also suffered injuries and were receiving treatment.
The fire started at 4:30am (local time), most likely due to an electrical fault, and it took several hours for the fire brigade to bring the blaze under control, they added.
Fires break out regularly in small factories around the country due to poor maintenance and safety measures.
Local police spokesperson Bhagwat Singh told the AFP news agency that the workers were sleeping when the fire broke out in the factory in Ghaziabad, a Delhi suburb.
The factory reportedly manufactures leather jackets.