Sushma Swaraj: India minister to get kidney transplant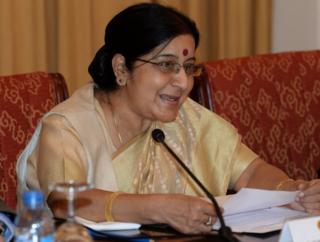 Indian Foreign Minister Sushma Swaraj has said that she is undergoing tests for a kidney transplant.
The 64-year-old minister, who has a history of chronic diabetes, was admitted to a hospital in Delhi earlier this month.
She tweeted to her followers on Wednesday that she was currently on dialysis.
Ms Swaraj is one the most high-profile ministers in Prime Minister Narendra Modi's cabinet.
Officials at the hospital told the PTI news agency that "chronic diabetes has affected her kidney functioning but her condition was stable".
She is known for reacting quickly to calls for help from Indians living or travelling abroad.
Earlier this month, she helped a Pakistani bride get a visa to attend her wedding in India.