India WhatsApp users fall for 'UN' hoax on new rupee note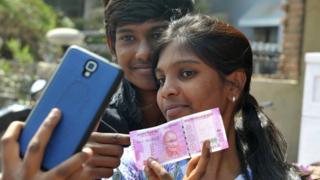 If Whatsapp messages are to be believed, the UN's cultural agency has rewarded India again, this time declaring the new 2,000 rupee note the "best in the world".
Thousands of people have forwarded the message along with joyful emojis.
Except for one catch. Unesco doesn't give out such awards.
But this is not India's first Unesco hoax. A widely-circulated mail in 2008 said it had called the Indian national anthem the "best" in the world.
The news became so widespread that Unesco had to issue a clarification that it had not given out any such award.
"We are aware of several blogs in India reporting this story, but can assure you that Unesco has made no such announcement concerning the anthem of India or any country," a Unesco official told the India Today website in 2008.
Then a more recent hoax said that the agency had announced Narendra Modi was the "best prime minister in the world".
Such hoaxes are frequently circulated, but the latest one about the 2,000 rupee note has made headlines because of India's currency crisis.
The government's surprise decision to ban the 500 and 1,000 rupee notes overnight in a crackdown on corruption has impacted 86% of the money circulating in the country's largely cash economy.
Long queues have become a familiar sight in front of ATMs and banks as people struggle to withdraw money.