Mohammed Shami, India cricketer, defends wife against Twitter trolls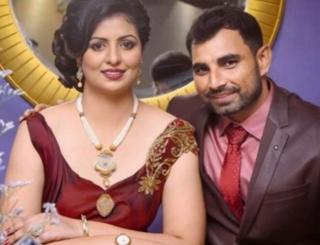 Indian cricketer Mohammed Shami has criticised social media users who have been trolling his wife because of her choice of clothes.
The pacer posted a picture of his wife on Facebook and Twitter on Sunday, with the words "beautiful moments".
But some users told him to "follow Islam" and "ensure that she wears the hijab and modest clothes".
The cricketer on Monday tweeted that he "knows what to do and what not to do for his family".
'Mongol conqueror' baby name stirs row
Why are Indian women being attacked on social media?
Some people commented that the cricketer should be "shameful" for "allowing his wife to wear revealing clothes".
"Shame on you. As a Muslim, keep your wife in purdah [covered clothing]. Learn from others," one user commented.
Shami responded that the trolls needed to "look inside".
"My child and my wife are my companions in life. I exactly know what to do and what not to do for them. We all need to look inside to know how good we are," he tweeted.
Other users, including fellow cricketer Mohammad Kaif, have also criticised people for posting "shameful comments" on Shami's social media accounts.
Celebrities are frequently trolled in India, and they often receive threats.
Some Twitter users last week trolled Bollywood stars Kareena Kapoor and Saif Ali Khan for naming their newborn baby boy after a 14th Century conqueror.
Meanwhile, the story has renewed discussions about women's right in India. BBC Hindi's Iqbal Ahmed has spoken to some women in Delhi to hear their views.
Talha Rahman, research student
"Women are also human beings. They can decide what they want to wear. Clothes are a matter of personal choice and it's worrying to see people raising questions over this. If you don't like something, then just don't wear it.
"Women are often asked that why do they wear the hijab? Why do they wear bikini? These questions take away women's basic right to take their own decisions. It's painful."
Sumbul Mashhadi, student
"It should be left to Shami to decide what pictures he wants to post on social media. I don't know why people are interested in knowing what his wife does or wears. I have seen such moral policing even in my university. People often comment on your choice of clothes.
"People comment specially when you are wearing tight or short clothes. This is happening in a university where intellectual debates should take place."
Sabika Abbas Naqvi, poet
"People love to give lectures, specially to women. Some men think it's their birth right to force their opinions on women. If a man posts his pictures in a sleeveless shirt, nobody will comment. It's simple, if you don't like anybody's picture, then just don't see it. Nobody is forcing you to look at any picture.
"Shami may have posted the picture for whatever reason, but if you find it objectionable, then you have a problem."