Tamannaah Bhatia praised for standing up to 'sexist' filmmaker Suraj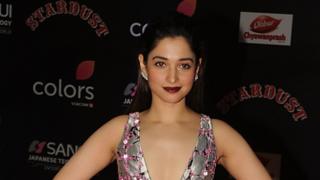 Social media users are praising Indian actress Tamannaah Bhatia for standing up to a filmmaker's "sexist" comments.
Suraj, the director of her new film Kathi Sandai (The Sword Fight), said "audiences pay money to see heroines in full glamour" and he didn't like to see them "fully clad in a sari".
Bhatia replied that actresses "are here to act" and they "should not at any point be objectified as commodities".
The director has apologised for his remarks about Bhatia.
Cricketer defends wife against trolls
The Bollywood actresses speaking out on sexism
He had said that people "should expect Tamannaah to look glamorous" because they are "paying money to watch a film".
"Whenever my costume designer presents my heroine in a knee-length outfit, I'd ask him to cut it short. If my heroine gets angry, I'd tell her the audience haven't paid so much for nothing," he said.
Bhatia, who acts both in Bollywood films and regional Tamil cinema, immediately issued a public statement and demanded an apology from the director.
"I have been working in the south industry for over 11 years and have worn costumes which I have been comfortable with. It is sad that women in our country are spoken about so frivolously," she said.
Fellow actress Nayanthara also criticised the director.
"How can a responsible person from the film industry make such a crass and cheap comment? At a time when films like Pink and Dangal speak about women empowerment and respect to women, in which era does Suraj belong to?" she said.
Many people have praised the actresses' decision to speak up against such a well-known director.
Popular film actresses frequently face sexism, and often on public platforms.
India's leading Times of India newspaper was criticised in 2014 after it published a photo and tweet about actress Deepika Padukone's cleavage.
"YES! I am a Woman. I have breasts AND a cleavage! You got a problem!!??" she had tweeted in response.
Other actresses have also been subjected to sexist comments and questions in the past.
Parineeti Chopra clashed with a reporter during a film promotion tour in 2014 when he asked her why "when girls are young, they like 'it' and when they get old, they start shouting and screaming that the boy exploited them".
A visibly annoyed Chopra asked the reporter what he meant by "it".
"I think this is ridiculous and disrespectful to say to a girl," Chopra told him.