Jallikattu: New Tamil Nadu bill backs India bullfights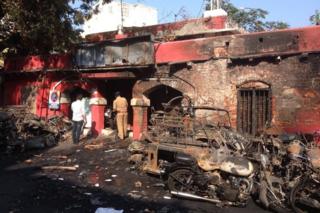 The southern Indian state of Tamil Nadu has passed a new bill to allow a controversial bull-taming festival.
The vote comes after days of protests in support of the sport, known as jallikattu.
On Monday, protesters set several vehicles on fire and incidents of arson were reported across the state.
Jallikattu was banned by the Supreme Court in 2014 on animal cruelty grounds. But the government temporarily lifted the ban on Saturday.
On Sunday, two people died after being gored during one contest in the state.
On Monday, police were clearing protest sites, but thousands remained in the state's capital, Chennai (Madras).
BBC Tamil reported that protesters were refusing to leave the city's iconic Marina beach.
It added that the police had cordoned off the area, and all roads leading to the beach had been blocked. Some protesters also reportedly clashed with police officials in Madurai city.
Railway authorities also cancelled 19 passenger trains on Sunday, fearing protests on the tracks.
Meanwhile, several villages and towns in Tamil Nadu held jallikattu events on Sunday, attracting huge crowds.
Subduing angry bulls has long been practised in the state as a sport and is a key part of the harvest festival.
The court had banned jallikattu on the grounds that it was cruel to animals.
Animal rights activists say the spectacle causes unnecessary stress to the bulls who are released into a crowd and forced to fend off people trying to ride them.
Many in Tamil Nadu, however, are against the ban as they see jallikattu as an important part of their cultural heritage, and also say it ensures the preservation of native breeds of bulls.
Demonstrators have been calling for the practice to be fully re-legalised.
Most ministers in the state government, including Chief Minister O Panneerselvam, as well as Tamil celebrities such as Oscar-winning composer AR Rahman, support jallikattu.
To become law the new bill must be signed by the state governor and India's president.