India IT sector fears new US H-1B visa bill for skilled workers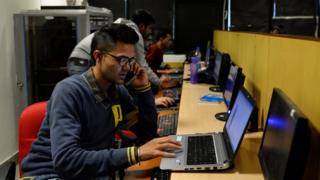 India is concerned that a new US bill designed to limit the entry of highly-skilled workers will have a serious impact on the country's IT industry.
The bill introduced to the US House of Representatives proposes doubling the minimum salary of H-1B visa holders to $130,000 from $60,000.
Congresswoman Zoe Lofgren, introducing the bill, said it would stop companies "replacing" American workers.
India's foreign ministry said it had expressed concern to the US.
"India's interests and concerns have been conveyed both to the US administration and the US Congress at senior levels," a statement from the ministry said.
Indian media organisations have described the move as a big setback to the IT industry.
The proposed new legislation mainly targets companies based in the US that bring in foreign employees on the visa quota.
Google recalls staff after Trump order
A senior official from India's IT body told the BBC that the bill was "disappointing".
"The new bill does not treat all IT companies with H-1B visa holders equally," Shivendra Singh, vice-president and head of global trade development of the National Association of Software and Services Companies (Nasscom), told the BBC.
"If the objective is to protect American workers, then this bill will defeat that objective. Companies that are not dependant on H-1B visas will continue to bring in skilled workers on lower wages which will nullify the whole objective of saving US jobs."
Amar Ambani, the head of research of India Infoline, said that if the bill were implemented, it would be "horrible" news for India's IT sector.
"More than 50% of their revenues come from that market. And this comes at a time when India's IT sector is already facing challenges to improve their margins and profitability," he told the BBC.
The H-1B has a cap of 65,000 visas each financial year, according to US Citizenship and Immigration Services. Around 70% of H-1B visas went to Indians in 2016, many of whom work in the IT industry.
The phrase H-1B is the top trend on Twitter in India.