Danielle McLaughlin murder: CCTV footage emerges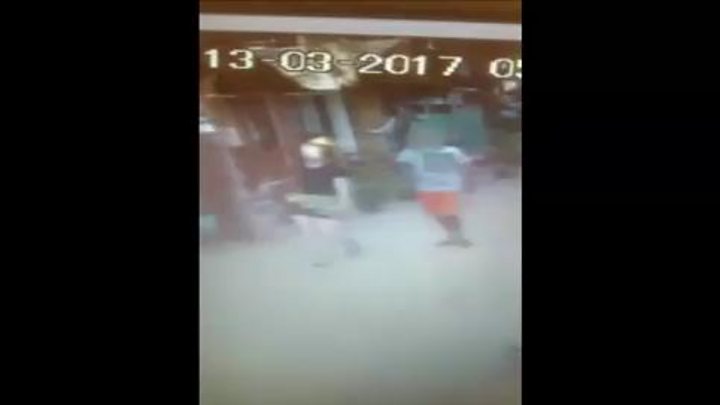 CCTV footage has emerged of the final movements of an Irish woman murdered in the western Indian state of Goa.
Danielle McLaughlin's body was discovered in an open field close to tourist resorts in Canacona on Tuesday.
Ms McLaughlin had lived in Liverpool and was travelling on a British passport.
A 24-year-old man, whose name has been reported as Vikat Bhagat, has been arrested. He appeared in court in India on Wednesday charged with her murder.
The CCTV footage shows Ms McLaughlin walking along a street with Mr Bhagat, police have said.
An officer involved with the investigation told the BBC that they believe they have caught the "main culprit" and he has "confessed".
Police have also seized a two-wheeled vehicle and some clothes, which are reported to have bloodstains on them.
Ms McLaughlin grew up in Buncrana, County Donegal, in the Republic of Ireland. She had travelled to India in February.
Her mother, Andrea Brannigan, said she would be "sadly missed by all".
She said the family were finding it a "difficult and trying time" since receiving the "awful news" about her 28-year-old daughter.
She also thanked the Irish and British consulates for their support.
---
'Justice for Danielle': Yogita Limaye, BBC News, Goa
On Wednesday evening, locals held a vigil at the spot where Danielle's body was found.
A big green banner had been laid out on the ground reading "Justice for Danielle". Photos of her, flowers, and candles were laid out near it.
It's a big open field, just 200m from the busy highway that connects the north and south of the state, and less than 2km (1.2 miles) from Palolem, one of the most popular beaches in south Goa.
People in the state have been shaken up by the murder. Goa is very popular with foreign tourists who come here for beach holidays and some are worried its image could be dented.
Police are still questioning the suspect to find out if he was acting alone or if there might have been others involved.
Police say they have not yet been able to locate Danielle's passport.
---
Police believe Ms McLaughlin, who had injuries to her face and head, was sexually assaulted and a post-mortem examination has been conducted.
Her body was identified with the help of some foreign tourists as well as information from social networking websites.
The family's parish priest, Fr Francis Bradley from St Mary's Church in Buncrana, said they were "broken-hearted".
He said Ms McLaughlin's mother had now lost her eldest child, having lost her youngest child, husband and father in recent years.
"Their emotions are torn, their minds are also troubled and full of questions about how this could have happened," he said.
"It's a real ugly cocktail of emotions and feelings, thoughts and questions.
"There were over 300 people at Mass this morning and there was a great sense of solidarity and of people simply praying. There was really no other way to reach the situation in Goa, other than through our prayers," Fr Francis added.
'She lit up the room'
Some of Danielle McLaughlin's friends are flying to Goa, from Australia, in the hope of accompanying her body back home.
Christy Duffy, 33, had been close friends with her for nearly half of his life.
"She had been in Liverpool and had been travelling for a few years but we had always kept in touch," he said.
"You hear the old saying, when someone comes in and lights up a room? That was her.
"People are very lucky to have one or two close friends in this life and she was without a doubt in that bracket, she'll be sorely missed."
Mr Duffy said that he was hopeful Danielle's remains would be "going home this weekend".
Ms McLaughlin went to Buncrana's Irish language school, Scoil Mhuire.
The school principal, Rosaleen Grant, said teachers and pupils alike were "just utterly shattered and devastated".
"She was a very confident, sociable, outgoing girl of a very caring nature," said Ms Grant.
"A number of the staff would have known her really well, so it's just the sense of loss and the fact she's so far from home makes it so tragic.
"She loved taking part in school musicals, she did Irish dancing, she was involved in sports and athletics. She was just an all-rounder really."
Liverpool John Moores University said it was "shocked and saddened" to hear of the death of one of its former students.
Last year, an Indian court cleared two men of raping and killing British teenager Scarlett Keeling.
The 15-year-old was found dead on Goa's popular Anjuna beach in 2008, having drowned after allegedly being plied with drugs.
Miss Keeling's mother said her heart sank after hearing of Ms McLaughlin's death.
"It is horrific," Fiona MacKeown said. "My heart breaks for her family and friends.
"I know what they are going through."
---
Are you affected by this story? Email us at haveyoursay@bbc.co.uk
You can send your pictures and videos to us at yourpics@bbc.co.uk
You can also contact us in the following ways:
Tweet: @BBC_HaveYourSay
WhatsApp: +447555 173285
Text an SMS or MMS to 61124 (UK) or +44 7624 800 100 (international)