India school's 'menstruation check' investigated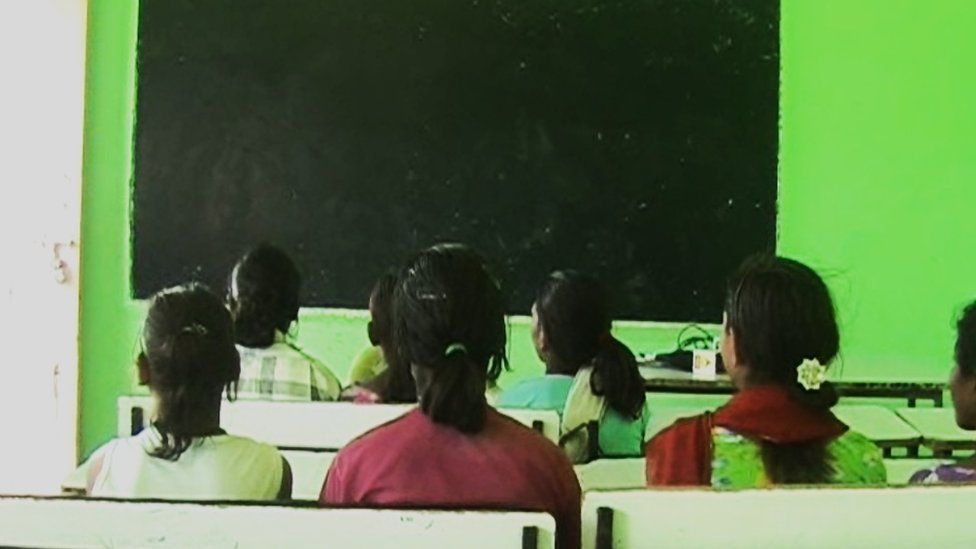 Indian authorities are investigating claims that 70 girls aged about 10 were stripped naked in a residential school to "check for menstrual blood".
Students of Kasturba Gandhi Girls Residential School, in the northern state of Uttar Pradesh, claim a female warden forced them to strip after finding blood on a bathroom door.
The warden was suspended after parents complained.
She initially defended her actions but later denied the entire incident.
Surekha Tomar had told reporters that after finding blood on the bathroom door, she tried to find out if one of the children had begun menstruating for the first time.
"I thought a 10-year-old might feel scared or ashamed to tell me if they had started their period so I wanted to find out. I am like their guardian. If I ask them something like this or check them, I have not committed a crime," she told Indian television channels.
Later however, she said that the entire incident was engineered by other teachers who wanted her to lose her job.
Many of the children have alleged that they were forced into taking off their clothes for the inspection.
"There was some blood on the bathroom door. Ma'am wanted to investigate. She asked us to strip. She wanted to check if one of us had started our period.
"She told two of our schoolmates to check and said if you don't tell us I will beat you. She said if you don't have shame I don't either," one student told reporters.
One parent told reporters that he had found out about the incident in the newspapers.
"I called my girl and she said it is true, and that she was also asked to strip. I left my job to come and get her. The warden should be jailed," he said.
Other teachers in the school also condemned the incident, and said that if proven, strict action needed to be taken.