Kishori Amonkar: Legendary Indian singer dies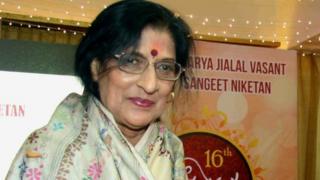 Renowned Indian singer Kishori Amonkar has died at the age of 86.
Amonkar, who enthralled audiences with her soulful singing for decades, died on Monday night at her house in Mumbai.
The singer followed the classical Hindustani school of singing, but was known for creating her own distinctive style.
Many, including legendary Bollywood singer Lata Mangeshkar, have paid tributes to Amonkar, and acknowledged her "great contribution" to music.
As news of her death broke, many people took to social media to pay tribute. The hashtag #kishoriamonkar has begun trending on Twitter India.
Amonkar started training at an early age under her mother Mogubai Kurdikar who was also a well-known vocalist.
How an Indian maestro is taking classical music to the masses
She was celebrated for the "emotional appeal" of her songs as well as her ability to draw influence from different schools of music.
She received two of India's top civilian honours, Padma Bhushan in 1987 and Padma Vibhushan in 2002.