India outrage at 1m-rupee bounty on 'demon' Mamata Banerjee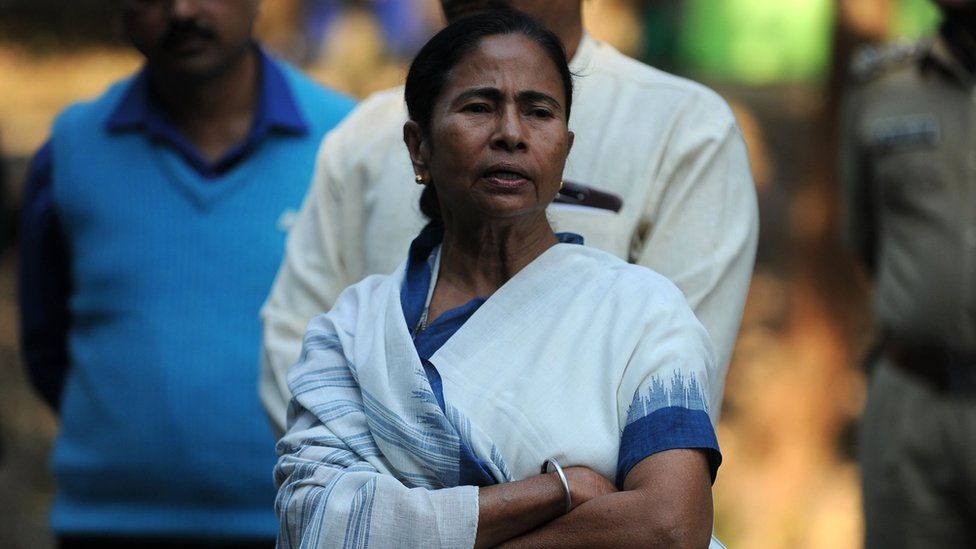 There has been outrage in India after a member of the ruling BJP party announced a bounty of 1.1m rupees ($17,018; £13,622) on West Bengal state Chief Minister Mamata Banerjee's head.
Yogesh Varshney issued the threat after police broke up a rally recently to celebrate Hindu god Hanuman's birthday.
Mr Varshney accused the police of brutally assaulting devotees and said the action was ordered by Ms Banerjee, whom he described as a "demon".
The BJP party disowned the statement.
"I condemn this type of statement. The state government can take proper action against him," Mukhtar Abbas Naqvi, federal minister and a vice-president of the Bharatiya Janata Party (BJP), said in the parliament on Wednesday.
Ms Banerjee is a feisty politician who was named one of Time magazine's 100 most influential people in the world in 2012.
Mr Varshney is a member of the Bharatiya Janata Yuva Morcha, the youth wing of the Hindu nationalist BJP.
Reports said the police had refused permission for Sunday's rally in Birbhum town, 180km from the state capital, Kolkata (formerly Calcutta), and forcibly broke up the procession when it tried to enter a Muslim-dominated area.
Mr Varshney accused Ms Banerjee's government of targeting Hindu devotees.
"Whoever comes to me with the severed head of Mamata Banerjee… I will reward him with 1.1m rupees," he said on Tuesday, describing the chief minister as a "demon".
Ms Banerjee's All India Trinamool Congress Party has strongly condemned the statement and demanded Mr Varshney's arrest.
Many Indians also took to Twitter to criticise the outrageous threat: