US reward for robbed Indian man who saved colleague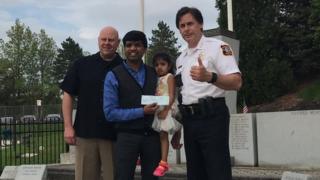 Police in the US have rewarded an Indian man after he was robbed while saving the life of a colleague.
Anil Vannavalli, 34, was waiting for a train at the Edison station in New Jersey on Friday when Madhuri Recherla, 26, fainted and fell onto the tracks.
He jumped on the track and pulled Ms Recherla back to safety, but somebody stole his backpack in the process.
Edison Police said the theft was "disgusting", and gifted $1,000 (£774) to the "Good Samaritan" on Tuesday.
"This theft, perpetrated in the midst of such a selfless good deed, seems so very disgusting and outrageous," Police Chief Thomas Bryan said in a statement.
Ms Recherla also thanked her colleague, adding that she fainted because she hadn't eaten anything.
Mr Vannavalli backpack contained his work laptop, headphones and $200 in cash.
Local media reported that the police were looking at surveillance video to find the thief.