Anil Dave: India environment minister dies aged 60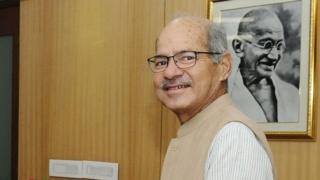 India's environment minister Anil Dave has died at the age of 60.
The minister was rushed to a hospital in Delhi on Thursday morning after he complained of chest pain. The exact cause of his death is unknown.
Prime Minister Narendra Modi tweeted that Mr Dave's sudden death was "shocking" because he was attending official meetings until last evening.
Mr Dave was an MP in Rajya Sabha (upper house of India's parliament) and became a minister in 2015.
Mr Modi added that the minister's death was his "personal loss".
Other ministers, including junior home minister Kiren Rijiju, have also paid tributes.