Twitter suspends India singer's account over sexist abuse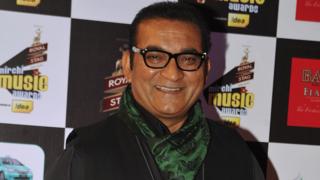 Popular Indian Bollywood singer Abhijeet Bhattacharya's Twitter account has been suspended after he tweeted about a female student leader.
In the tweet he insinuated that Shehla Rashid, a student leader at Delhi's leading Jawaharlal Nehru University (JNU), had been paid for sex.
His account was suspended following backlash by other social media users. However, many have supported him too.
Mr Bhattacharya told reporters he "did not give a damn" about the suspension.
"The entire nation is with me," he said.
He had sent the tweet in response to a comment by Ms Rashid alleging that government ministers were running sex rackets in various states.
Another singer, Sonu Nigam, deleted his Twitter account in support of Mr Bhattacharya, describing Twitter as a "one-sided scam" and calling upon "every logical sensible human and patriot" to do the same.
Others have begun tweeting with the hashtag #IStandWithAbhijeet.
Meanwhile, Ms Rashid has reached out to social media users who supported her and thanked them.
This is not the first time Mr Bhattacharya has got into trouble over his tweets.
He was arrested and later released on bail after a journalist, Swati Chaturvedi, registered a police complaint against him last July.