Champions Trophy: How Twitter played the India-Pakistan final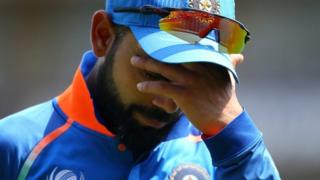 Pakistan thrashed defending champions India in the Champions Trophy to stun the country of 1.2 billion people on Sunday.
India started as the favourite both in TV newsrooms and on Twitter with anchors and people giving Pakistan absolutely no chance.
Take this tweet from a fan-page of former India cricketer Virender Sehwag.
But Pakistan had a different script in mind, which unfolded on Twitter like this:
The no-ball
Jaspreet Bumrah gets Fakhar Zaman early! But it's a no-ball.
Zaman show
The batsman took a moment to ponder over his bad shot to Bumrah's "shocker" and proceeded to hammer the Indian bowlers.
By now, Indians supporters were getting a bad feeling...
... and started pleading for wickets
Fakhar Zaman gets a 100!
A plea for perspective
Mammoth total
Pakistan set a target of 338 - but Indians were still confident.
But Pakistan had other plans
The wickets just kept on falling
Hardik Pandya made a valiant effort...
... only to be run out
... and Pakistan celebrates an epic win!
The match summed up
Congratulations pour in
In India, there was anger, blinding anger
... but most were gracious in defeat
And anyway there's always hockey