India rape victim, 13, seeks court approval for abortion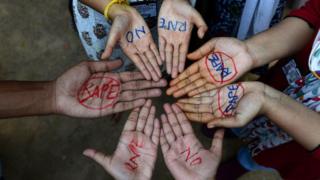 The parents of a pregnant 13-year-old rape victim from the Indian city of Mumbai have gone to the Supreme Court seeking permission to abort her baby.
The girl is 30 weeks pregnant. Indian law allows terminations after 20 weeks only if the mother's life is in danger.
The pregnancy was discovered after her parents took her to a doctor to seek treatment for obesity.
The girl alleges she was raped by her father's colleague, who has been arrested.
Her case comes just days after a 10-year-old, also a rape victim, gave birth to a baby girl in the northern city of Chandigarh.
Her plight made global headlines after the court turned down her request for abortion on the grounds that she was too far into her pregnancy.
In May, a similar case was reported from the northern town of Haryana where a 10-year-old, allegedly raped by her stepfather, was allowed to abort. None of the girls can be named for legal reasons.
The BBC's Geeta Pandey in Delhi says three cases in such a short time have alarmed many, but campaigners believe there may be many more similar cases that don't hit the headlines because they are discovered within the 20-week deadline and the parents do not report them to police.
These three cases made the headlines because they came to light so late - the children themselves were not aware of their condition. Their parents also missed the obvious signs because they couldn't imagine that their daughters could be pregnant at such a young age, our correspondent adds.
'Health risks'
This is exactly what happened in the case of the 13-year-old, Mumbai-based gynaecologist Dr Nikhil Datar told the BBC.
"She was brought to me by her parents on 9 August. They suspected she had a thyroid problem or some other medical condition because she was gaining weight. The scan showed that she was 27 weeks pregnant so I informed the police," he said.
Unlike the 10-year-old girl who was kept in the dark about her pregnancy and made to believe that her bulge was due to a large stone in her stomach, the 13-year-old "knows she's pregnant and kind of understands what it means, but not fully", he added.
Dr Datar says he has recommended abortion for health reasons.
"Her pelvis is not fully developed to carry a baby to full term and she will go through physical and mental trauma if she's not allowed to abort.
"There are definite risks to her health. It will be more troublesome for her the longer it's allowed to continue," he said.
Sneha Mukherjee, a lawyer with the Human Rights Law Network (HRLN), who has filed the petition on behalf of the girl's parents, told the BBC she was hopeful for an order in favour of the 13-year-old.
"The courts also have to make their decision keeping in mind what's in the best interest of her, she too is a child after all."
---
The scale of abuse in India
A child under 16 is raped every 155 minutes, a child under 10 every 13 hours
More than 10,000 children were raped in 2015
240 million women living in India were married before they turned 18
53.22% of children who participated in a government study reported some form of sexual abuse
50% of abusers are known to the child or are "persons in trust and care-givers"
Sources: Indian government, Unicef
---