India's railway chairman resigns after two derailments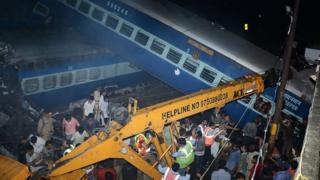 The administrative head of India's railways, AK Mittal, has resigned after two train derailments in five days in the northern state of Uttar Pradesh.
The latest derailment injured more than 70 people, while one on Saturday killed at least 23 passengers and injured about 156.
Suresh Prabhu, the railway minister, claimed "full moral responsibility" in a meeting with the prime minister.
The minister said he had also offered to step down but was asked to wait.
Mr Mittal's resignation from the post of Chairman of the Railway Board comes after nine coaches of the Kaifiyat Express went off the rails on Wednesday.
It was travelling from a district in Uttar Pradesh to Delhi. While no deaths have been reported so far, it follows Saturday's high-profile incident.
Train disasters are fairly common in India, where much of the rail infrastructure and rolling stock is out of date.
According to data from the Ministry of Railways, the country saw 104 train accidents between 2016-2017.
India's railways in numbers
India runs 11,000 trains everyday, of which 7,000 are passenger trains
It has 108,706km (67,546 miles) of railway tracks
23 million passengers travel by trains in India every day
A third of India's rail routes are electrified
Last year, around 150 passengers were killed as an express train derailed, making the crash the deadliest in the past 14 years.
Derailments, in particular, were the reason for a just over half of train accidents between 2014-2015.
A 2015 assessment by the railway ministry said around 4,500km of track should be up for renewal every year. But a lack of funds has slowed the pace of new construction and track replacement. Only 2,100km of tracks were targeted for renewal in 2015.