India teen's hand cut off in dispute over mobile charger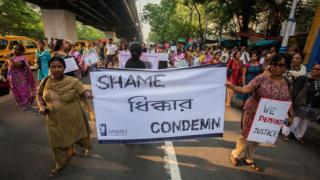 A teenage girl in northern India is in critical condition after a sword-wielding man cut off one of her hands, allegedly because of a dispute over a mobile phone charger.
The girl also received multiple stab wounds in the attack at a busy marketplace in Uttar Pradesh state.
Passersby overpowered the attacker and handed him over to the police.
Witnesses say the two had been arguing when the man assaulted her. Police have arrested the man.
Police officials told BBC Hindi that the victim's family had complained that the man had also been stalking her.
Her uncle, Sushil Kumar Trivedi, told BBC Hindi that she was walking to his house along with her mother to charge her phone when the attack took place.