India guru rape: Followers start to leave Ram Rahim's HQ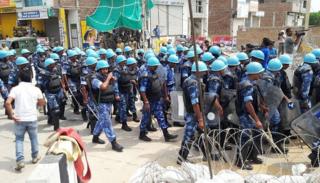 Followers of a controversial Indian guru have started to withdraw from his 1,000-acre compound in Sirsa, Haryana, after a tense stand-off with soldiers.
Tens of thousands are still believed to be inside the headquarters of the Dera Sacha Sauda sect.
Some 38 people died and hundreds were injured in riots on Friday after their leader, Gurmeet Ram Rahim Singh, was convicted of raping two disciples.
Authorities fear more bloodshed could follow when he is sentenced on Monday.
Police arrested some 2,500 of the guru's devotees after 200,000 flocked to the town of Panchkula to hear the verdict. Some smashed cars and set media vans alight, insisting he was innocent.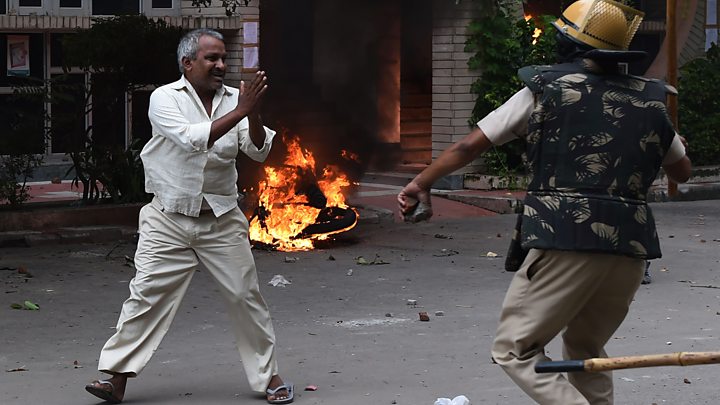 Security forces were deployed to prevent further violence, and Hayana's state government ordered a search of all centres linked to the sect.
The Dera's Sirsa headquarters is a huge township that houses schools, a hospital and a cinema. Hundreds of soldiers and riot police had blocked approaches to the sprawling premises on Saturday, and urged those inside to leave peacefully.
A curfew imposed in Sirsa was briefly lifted on Sunday to allow the guru's loyalists to leave the compound.
The BBC's Justin Rowlatt, who is at the scene, reports that devotees are piling onto trucks and into taxis.
Some said they were heading to the town of Rohtak, where the self-styled holy man is being held. Others were simply going home.
They departed one by one, under close guard, as spiritual anthems blared from megaphones.
In his monthly radio address on Sunday, India's Prime Minister Narendra Modi said it was "natural to be worried" after days of violence which had briefly reached the capital, Delhi.
"Violence is not acceptable in the nation, in any form," Mr Modi said.
"Those who take law in their hands or take to violence will not be spared, whoever they are."
Singh, 50, is expected to receive a prison term of at least seven years when he is sentenced on Monday. The prison holding him has been transformed into a fortress, with journalists banned from a 1.5km (one mile) radius.
Rohtak is under police and military lockdown, the roads lined with barbed-wire barricades.
When the sentencing day dawns, all schools and colleges will remain closed. Mobile internet services were cut in Haryana last Thursday, and the ban has been extended for a further 48 hours.
---
Who is Gurmeet Ram Rahim Singh?
Controversial leader of the Dera Sacha Sauda sect, which claims to have 60 million followers around the world
Took over the sect - which describes itself as "a non-profit social welfare and spiritual organisation" - when he was 23
Performs at rock concerts, acts in films and even has his own line of food products
Known as "rockstar baba" and "guru of bling" because of his shiny, colourful clothes
Has been accused of mocking Sikh and Hindu figures
Has been investigated for murder and rape, charges he denies
Has been accused of forcing followers to undergo castration to "get closer to god"