India Islamic schools to teach "correct" way to divorce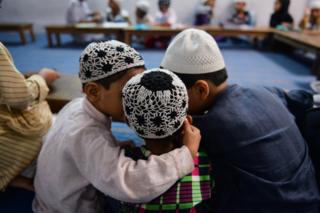 A major Islamic body in India will teach Muslim boys the "correct" way to divorce according to Islamic law.
The Dargah-E-Ala Hazrat, which controls 15,000 madrassas or Islamic seminaries, announced the decision following a court order banning instant divorce.
Islamic scholars have argued that instant divorce is not in accordance with Islamic law.
A senior cleric from the body said they would introduce a chapter dedicated to divorce.
The seminaries' curriculum, which revolves around the Koran and Islamic law, already touched upon divorce, but not in great detail.
"We conducted a meeting of clerics associated with madrassas after the Supreme Court's order and have urged them to inform the community through students and in their Friday prayers about the correct ways of undergoing talaq," Maulana Shahbudin Razvi, a senior cleric from the centre, told BBC Hindi's Samiratmaj Mishra.
He added that it would clarify that the instant divorce widely practiced in India does not adhere to Islamic law.
It is unclear at what age the students, all of them boys aged five to 16 years, will be taught about divorce.
Since the seminaries only admit male students, it is hoped - Mr Rizvi said - that they will then spread the message to their families.
Once the centre develops this curriculum, they will share it with other seminaries who can then choose if they want to implement it.
The additions to the curriculum are expected to roll out only in July 2018, when the next academic year begins.
Despite the Supreme Court's ruling, there have been reports of Muslim women lodging police complaints against their husbands who divorced them by uttering the word "talaq" three times.