India hospital: Sixty more children die in Uttar Pradesh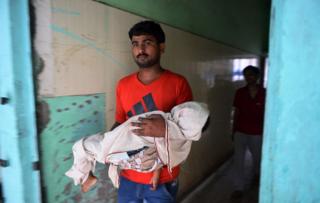 At least 60 children, including 31 infants, have died in the last three days at a hospital in northern India.
It is the same hospital where more than 100 children died earlier in August amid allegations that the oxygen supply had been cut over unpaid bills.
Officials said the latest deaths were due to diseases and not because of a shortage of oxygen.
The region, Uttar Pradesh, is one of the poorest in India and has one of the country's worst child mortality rates.
The latest deaths occurred between 27 August and 29 August, Dr PK Singh, a senior official at the Baba Raghav Das hospital in Gorakhpur district, told the media.
He added that often it is "very hard to save these children" because they are in such a "critical condition" by the time they arrive at the hospital.
It often receives patients referred from other hospitals across the region, but by the time they arrive it is sometimes too late to save them.
The institution has been at the forefront of the battle against encephalitis, a deadly inflammation of the brain that has been rampant in the region for decades.
Mr Singh said however, that only seven of the latest deaths were from encephalitis, adding that the others were because of various diseases, which were common in the monsoon season when infections spread faster.
Half of the children who are admitted to the hospital during the monsoon season are in a "critical condition" because of "brain damage", KP Kushwaha, a former paediatrician at the hospital, told BBC Hindi's Kumar Harsh.
He added that training rural health workers and doctors at primary health centres to diagnose children early would reduce deaths.
This year has been seen a particularly bad outbreak of illness because of devastating floods in the neighbouring state of Bihar, a hospital official told reporters.
The floods there have killed 500 people and displaced thousands.