Mumbai building collapse kills 33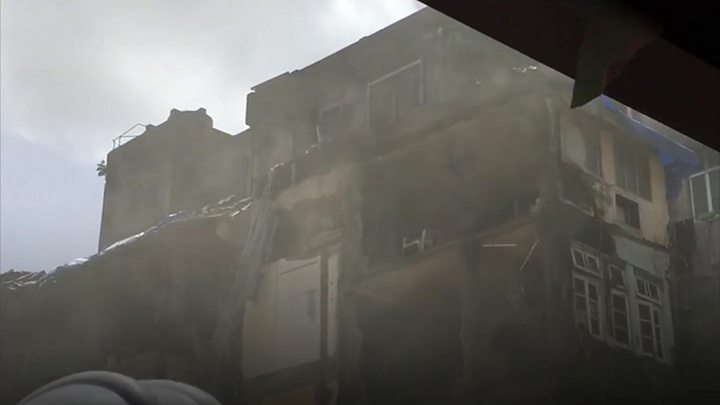 The death toll from the collapse of a six-storey building in Mumbai on Thursday has risen to 33 while 46 others have been rescued, officials have said.
Relief operations are still underway, but relief workers told the BBC that all survivors have been rescued.
The building in the densely populated Bhendi Bazaar area was believed to be about 100 years old.
Police have not yet concluded why the building toppled over.
However the Reuters news agency reported that the building was declared unsafe in 2011, but many of the residents stayed on even after that.
Members of the disaster relief force have almost cleared the area.
Mumbai is recovering from heavy rains and flooding from earlier this week.
The residential building gave way around 08:40 India time [03:10 GMT] on Thursday, reports said.
---
'High quality housing in short supply'
Suranjana Tewari, BBC News Mumbai
This is the third building collapse in Mumbai in less than a month. Police suspect that Tuesday's torrential rain weakened the structure of the building that collapsed.
Whether that's proven or not, questions are likely to be asked about why so many residents of this growing city are allowed to go on living in old and dilapidated properties.
Property prices and rent in Mumbai are among the highest in Asia.
High quality housing is in short supply and so people have no choice but to live in sub-standard and crowded buildings.
This particular building was slated for redevelopment but people were clearly still living inside it even though it was about 100 years old.
Municipal authorities say they have stepped up efforts to evacuate dangerous buildings and demolish them. Clearly that isn't happening fast enough.
---
Building accidents are not uncommon in India, particularly during the monsoon season. Poor construction standards and dilapidation are often to blame.
Every year, dozens of people are killed in building collapses across India.
There have been three in Mumbai in the past month. In July, 17 people were killed when a four-storey building collapsed in the suburb of Ghatkopar.
---
Are you in the area? Share your pictures, video and eyewitness stories by emailing haveyoursay@bbc.co.uk.
Please include a contact number if you are willing to speak to a BBC journalist. You can also contact us in the following ways: