Why is India threatening to deport its Rohingya population?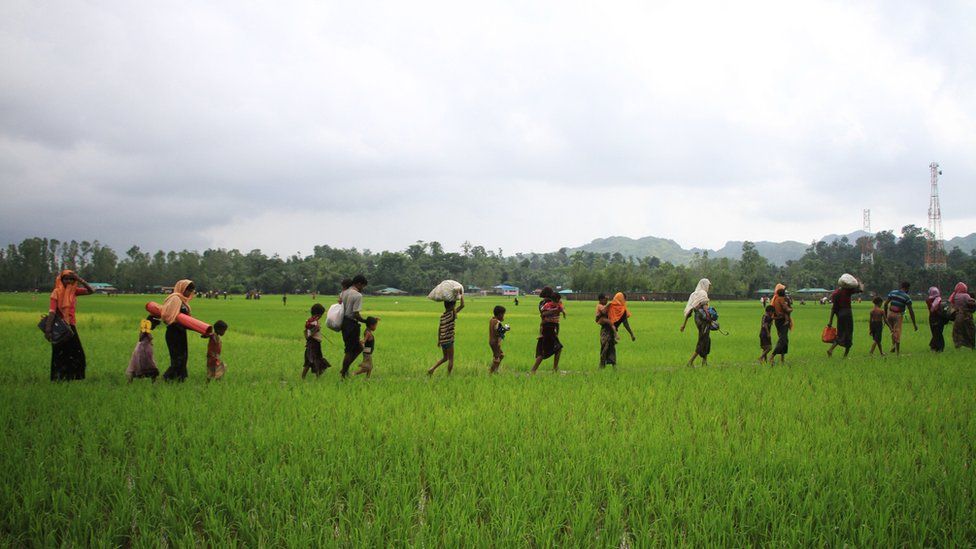 India's announcement that it plans to deport its Rohingya population is an attempt to curry favour with Buddhist-majority Myanmar ahead of an official visit by Prime Minister Narendra Modi, writes Subir Bhaumik in Yangon.
Three days before Rohingya militants attacked police posts in Myanmar's Rakhine state, killing 12 members of the security forces and triggering an apparent military crackdown that has led to an ongoing Rohingya refugee crisis, Indian junior home minister, Kiren Rijiju, announced that India would deport its entire Rohingya population, thought to number about 40,000.
This number, he said, would include some 16,000 Rohingya who have been registered as refugees by the UN. "The UNHCR registration means nothing. For us, all of them remain illegal migrants," he said.
After the police-post attack on 25 August, India's foreign ministry issued a strongly worded statement promising to stand firmly with Myanmar in its "fight against terrorism".
Both statements seem be setting up Prime Minister Narendra Modi's visit to Myanmar on 5 September.
A reported military crackdown since the attacks has sent tens of thousands of Rohingya fleeing into Bangladesh. But China's silence on the crisis has helped India strike a strong chord with mainstream Burmese public opinion.
It is not clear whether India plans to, or indeed could, deport its Rohingya population to Myanmar or Bangladesh - the Rohingya are stateless and Myanmar refuses to grant them citizenship, while Bangladesh is already home to hundreds of thousands of Rohingya refugees.
The move to deport the Rohingya has also been challenged before India's Supreme Court, which on Monday asked the government to respond.
But the intent behind the announcement seems to be to connect to hard-line Buddhist nationalist opinion in Myanmar.
"The Burmese nationalists and Buddhist hardliners see in Mr Modi and the BJP a political spectrum closer to their line of thinking when it comes to Muslims," Jiten Nongthaubam who heads the Myanmar Studies Centre at Manipur University in India, told the BBC.
This together with Indian plans to train Myanmar's army in special operations is being construed by some as Indian support for Myanmar's military campaign against Rohingya militants.
India is actively pursuing a good relationship with Myanmar's army officials in the hope that it can enlist their help in acting against militants in India's northeast, many of whom are based in Myanmar's Sagaing jungles.
In a further sign of warming ties, India is building a port and waterways project at Sittwe in Rakhine state. Work will also soon start on connecting Sittwe to Zirinpui in India's Mizoram state by road.
"This project helps our mainland connect to India's northeast but we are giving this over to Myanmar. We intend to create public assets for Myanmar, not commercial assets to facilitate our business as some countries are doing," Indian Ambassador to Myanmar Vikram Misri told a Burmese publication, in a clear reference to China.
India is actively looking for more infrastructure projects that will make a success of its "act east" policy, which was announced by foreign minister Sushma Swaraj in 2014.
Under the policy, India is aiming to grow its influence in Southeast Asian countries and counter China's increasing presence in the region which will also secure its north-eastern territories.
During his official visit, Mr Modi will visit Bagan, where India has restored earthquake-hit ancient pagodas, Yangon's iconic Shwedagon pagoda and also hold a public rally at a local stadium.
The agenda seems to be aimed at connecting Indian settlers in Myanmar with Burmese nationalists through a combination of religious appeal and political orchestration.
"It is perhaps no coincidence that Modi got Rijiju to fire the first salvo when he promised the Rohingya push out. Rijiju is a Buddhist and he also accompanied the Dalai Lama when the Tibetan spiritual leader visited the disputed state of Arunachal Pradesh," Myanmar watcher Binoda Mishra told the BBC.
"The actual deportation may not get off the ground at all because finalising the country for sending the Rohingya back may not be easy to finalise, but it has helped create the political vibes ahead of the Modi visit," added Anita Sengupta a researcher on Rohingya in India.
Subir Bhaumik is a Kolkata based independent journalist and commentator.