India Supreme Court allows rape victim, 13, to terminate pregnancy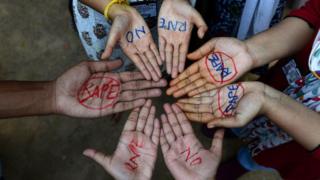 India's Supreme Court has given permission to a 13-year-old rape victim from the city of Mumbai to terminate her pregnancy.
The girl, who is 32 weeks pregnant, needed the court's assent since Indian law allows terminations after 20 weeks only if the mother's life is in danger.
The abortion is set to take place on Friday, her lawyer told the BBC.
The pregnancy was discovered after her parents took her to a doctor to seek treatment for obesity.
The girl alleges she was raped by her father's colleague. He is under arrest.
The decision to allow her to abort was taken by a three-judge bench, headed by Chief Justice Dipak Mishra, who looked at her medical report prepared by a panel of doctors from Mumbai's JJ Hospital.
The report says the risk to the 13-year-old will be the same whether the termination is done now or later.
The doctors had suggested a wait for two weeks to allow the foetus to grow further, but the judges ordered an immediate termination to avoid further trauma to the girl.
Dr Nikhil Datar, who discovered the pregnancy on 9 August when the girl was taken to him to seek treatment for what her parents believed to be obesity, described Wednesday's order as "a path-breaking judgement".
The 13-year-old's case came to light just days after a 10-year-old, also a rape victim, gave birth to a baby girl in the northern city of Chandigarh.
She too was 32 weeks pregnant, but she was denied permission to abort after a doctors' panel said that termination of her pregnancy would be "too risky".
In May, a similar case was reported from the northern state of Haryana where a 10-year-old, allegedly raped by her stepfather, was allowed to abort. None of the girls can be named for legal reasons.
The BBC's Geeta Pandey in Delhi says three similar cases in the past few months have shocked India and led to calls for a better way to deal with them.
The cases came to light so late because the children themselves were not aware of their condition and their parents also missed the obvious signs because they couldn't imagine that their daughters could be pregnant at such a young age, our correspondent adds.
---
The scale of abuse in India
A child under 16 is raped every 155 minutes, a child under 10 every 13 hours
More than 10,000 children were raped in 2015
240 million women living in India were married before they turned 18
53.22% of children who participated in a government study reported some form of sexual abuse
50% of abusers are known to the child or are "persons in trust and care-givers"
Sources: Indian government, Unicef
---