Protest for justice over murdered Indian journalist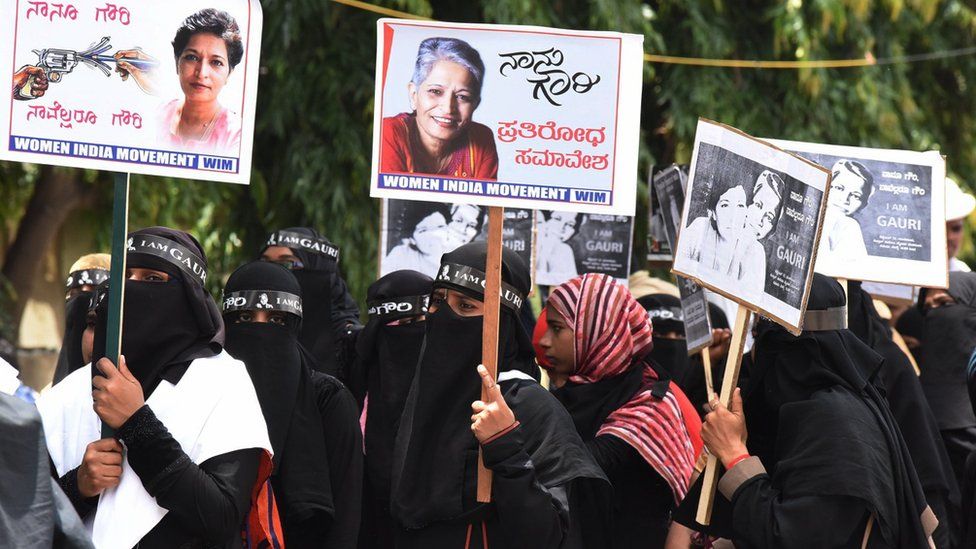 Up to 15,000 people including writers, journalists and academics have turned out in Bangalore to condemn the murder of Indian journalist Gauri Lankesh.
Many held placards saying "I am Gauri", while others read out poems on the importance of free speech.
Police are investigating her murder but no arrests have yet been made.
Ms Lankesh, who was shot dead outside her home on 5 September, is the most high-profile Indian journalist murdered in recent years.
After her death last week, protests were held across several Indian cities but this one in her hometown prompted the biggest turnout yet.
Gauri Lankesh was known for her left-leaning views. As a journalist, she cast a critical eye on Hindu fundamentalism in politics and fiercely opposed the caste system.
She also voiced support for the Naxalites, or Maoist rebels who have been carrying out a bloody insurgency against the government.
The rally, which was organised by 21 civil society groups, began at the city's railway station before protestors took to the streets.
Marchers sang protest songs and held slogans with the words "Long live Gauri Lankesh". Many were wearing black headbands that read "I Am Gauri".
Exactly what motivated the killing is not yet known, but the general mood in the air was one of anger and frustration, said BBC Hindi's Imran Qureshi.
The crowd waved banners calling for justice, while some set up a structure of black umbrellas that were stamped with slogans condemning her murder.
Sitaram Yechury, an Indian politician and leader of the Communist Party of India (Marxist), was one of many prominent speakers at the rally.
"When I say 'I am Gauri', it means that we will not allow us to be silenced," he said. "The idea of a socialist and secular India is still alive."
"We will come in front of you, we will not wait for you," said documentarian Rakesh Sharma. "Who all will you target?" he asked.
Veteran freedom fighter HS Doreswamy said that a "new era" should be created, starting now. "If I can fight for change at 99 years old, why can't you fight?"
Other people present at the protest included journalist P Sainath, politician Rajeev Gowda, social activist Medha Patkar and women's rights campaigner Kavita Krishnan.
"Freedom of expression does not hold good any more," Pearl Gabriel, a student who attended the protest told the BBC. "If you freely voice your ideas, you may even get killed," she said.
The Committee to Protect Journalists, a non-governmental organisation, has ranked India as a country with a poor record in safeguarding journalists. Their research shows that at least 27 journalists have been murdered because of their work in India since 1992.