Maya Kodnani: India BJP head Amit Shah testifies in Gujarat riots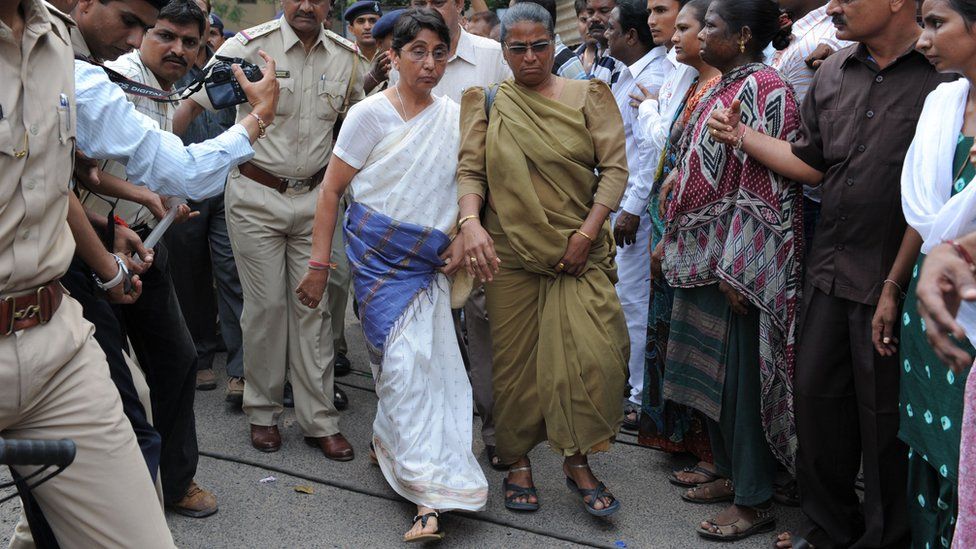 The president of India's ruling BJP party has appeared as a witness for a former minister who was convicted of playing a role in the 2002 anti-Muslim riots in the western state of Gujarat.
Amit Shah told a court Maya Kodnani was at the state assembly that day.
Kodnani is accused of inciting a mob who killed 11 people in the Naroda Gam area of Ahmedabad. She was jailed in 2012 for her part in other violence.
The religious riots left more than 1,000 people, mostly Muslims, dead.
They were among India's worst outbreaks of unrest.
Mr Shah appeared as a defence witness and told the Gujarat high court that Kodnani was in the state assembly before going to a city hospital on February 28, 2002. He appeared before the special court in response to a summons issued on Kodnani's application.
"Amit Shah told the court that he cannot tell where Kodnani could have gone after she left the assembly and before she reached Sola Civil Hospital. He said that he could not tell exactly at what time Kodnani had reached the hospital," Suresh Shah, the special prosecutor in the case, told BBC Gujarati's Vijaysinh Parmar.
Mr Shah did not specify exact times of her whereabouts, the prosecutor added.
Mr Shah's testimony lasted for 40 minutes. Kodnani wanted 14 witnesses to be examined to establish her alibi that she was at the assembly, the city hospital and then at her own clinic in Ahmedabad.
A former aide to then chief minister Narendra Modi, Kodnani received a jail sentence of 28 years for her role in the religious riots. She was not a minister at the time of the violence, but was appointed junior minister for women and child development by Mr Modi in 2007.
Mr Modi, now India's prime minister, has always denied allegations he could have done more to stop the violence.
Kodnani quit her post when she was arrested in 2009 in connection with the massacre in the Naroda Patiya area - in which 97 people were murdered - but remained a member of the state assembly.
The Naroda Patiya trial began in August 2009 and charges were brought against 62 people. One of the accused died during the trial.
Kodnani was convicted in August 2012 and bailed on health grounds after a little over a year in jail.