Kashmir: Three dead and more than 20 injured in attack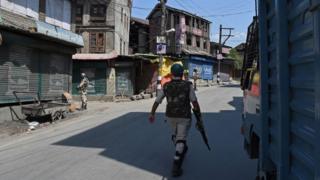 Three civilians have been killed and more than 20 injured in a suspected militant attack in Indian-administered Kashmir.
Police told reporters the target for the grenade attack was a local minister, who managed to escape unhurt.
The attack took place in Tral, the hometown of militant Burhan Wani, whose death last year sparked a deadly wave of violence in the region.
The Kashmir region is claimed by both India and Pakistan in its entirety.
"I am unhurt myself but I am very sad because this claimed two lives. I feel very sad for them," news agency PTI quoted Jammu and Kashmir Minister of Public Works Naeem Akhtar, the reported target, as saying.
He added that a driver was "very critically injured."
The head of the police in the region, SP Vaid, told BBC Urdu that the minister was touring the Tral area to inaugurate a development project when the attack took place.
The blast, which occurred at a bus stand, also injured seven paramilitary troopers. Health officials said that six people are undergoing treatment at a hospital in Srinagar, and two are critical.
Authorities blamed the Hizbul Mujahideen militants for the attack. Tral is a stronghold for the militant group.
However, Hizbul Mujahideen condemned the "dastardly attack" in an emailed statement to a local news gathering agency.
Since 1989, Kashmir has seen an armed revolt in the Muslim-majority region against rule by India.
India blames Pakistan for fuelling the unrest in the region, a claim denied by Islamabad.
Two out of the three wars fought between the two nations were centred on Kashmir.