India calls Pakistan 'Terroristan' in UN speech row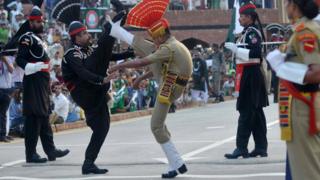 India has responded angrily to a speech by Pakistan's prime minister to the UN general assembly, with an envoy calling the country "Terroristan".
In his speech PM Shahid Khaqan Abbasi accused India of "war crimes" in the disputed Kashmir region and of "exporting terror" to Pakistan.
India addresses the UN on Saturday, but used a right of reply to respond.
Relations between the nuclear-armed neighbours have worsened in recent times, mainly over Kashmir.
The two nations have fought three wars since gaining independence from Britain in 1947, two of them over the disputed territory.
'Extraordinary'
In his speech Mr Abbasi addressed the issue of the Afghan war, saying Pakistan refused to be a "scapegoat" for the conflict. The US accuses the Pakistani intelligence services of ties to militants who operate in Afghanistan, allegations Pakistan rejects.
On Kashmir, the Pakistani leader accused India of employing "massive and indiscriminate force" against civilians protesting against Delhi's rule.
"Shotgun pellets have blinded and maimed thousands of Kashmiris, including children. These and other brutalities clearly constitute war crimes and violate the Geneva conventions," he said.
He also asked the UN to appoint a special envoy to oversee the region.
Exercising the right of reply, Eenam Gambhir, India's first secretary to the UN, said it was "extraordinary that the state which protected Osama Bin Laden and sheltered Mullah Omar should have the gumption to play the victim".
"Pakistan is now Terroristan with a flourishing industry producing and exporting global terrorism," the envoy said.
She also accused Pakistan of "avaricious efforts to covet the territories of its neighbours".
The Muslim-majority Kashmir region has seen an armed revolt against Indian rule since 1989. India blames Pakistan for fuelling the unrest, a claim denied by Islamabad.
On Thursday, three civilians were killed and more than 20 injured in a suspected militant attack in Indian-administered Kashmir. Police told reporters the target for the grenade attack was a local minister, who managed to escape unhurt.