BBC launches new Indian services: What you need to know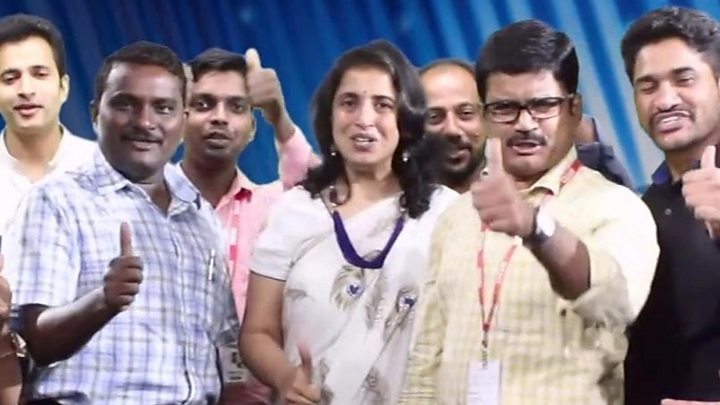 The BBC World Service has begun broadcasting in four new Indian languages.
The launch is part of the World Service's biggest expansion since the 1940s, following a government funding boost announced in 2016.
BBC World Service is now available in 40 languages, including English.
The new Indian languages - Marathi, Gujarati, Telugu and Punjabi - are among 11 new services launched under the 2020 project.
Here are a few interesting facts about the four regions where these languages are predominantly spoken:
---
Maharashtra - more than just Mumbai
Language: Marathi, spoken by an estimated 73 million people
Located in: Western India
Known for: Being India's richest state, Mumbai, Bollywood
Famous Maharashtrians: Cricketer Sachin Tendulkar, singer Lata Mangeshkar, and Tamil superstar Rajinikanth
One random fact: This isn't the first time the BBC has launched a Marathi service. Back in 1940, George Orwell oversaw Indian languages, including "Hindustani and Marathi", as part of the Indian section of the BBC's Eastern Service.
And another: We know this is supposed to be one random fact per state, but we just had to tell you that Queen lead singer Freddy Mercury had his first piano lesson in Panchghani, near Mumbai, where he studied at St Peter's School, a British-style boarding school for boys.
---
Gujarat: The land of Gandhi
Language: Gujarati, spoken by 50 million people
Located in: Western India
Known for: Great vegetarian food, unsurpassed entrepreneurial skills, the dandiya dance
Famous Gujaratis: Freedom icon Mahatma Gandhi, Pakistan's founder Muhammed Ali Jinnah, Indian Prime Minister Narendra Modi, business tycoons the Ambanis
One random fact: Gujarat is the only place in the world where the Asiatic lion can be found in the wild. Its Gir forest is home to more than 500 of the animals.
---
Punjab: Beyond Bhangra
Language: Punjabi, spoken by 100 million people, the 11th most used language in the world
Located in: North-western India
Known for: Agriculture, Bhangra, the Golden Temple
Famous Punjabis: Former Prime Minister Manmohan Singh, Bollywood's first family the Kapoors
One random fact: The state also has a proud military history. Six chiefs of the Indian air force and seven of the army were from the state. Punita Arora, the first Indian woman to become a lieutenant general in the army is also a Punjabi.
---
Andhra Pradesh and Telangana: Home of the koh-i-noor
Language: Telugu, spoken by 75 million people
Located in: Southern India
Known for: Tirupati - the world's richest temple, Hyderabadi Biryani, iconic 16th Century mosque and monument the Charminar
Famous Telugus: Microsoft CEO Satya Nadella, Former Prime Minister PV Narasimha Rao, Badminton champion PV Sindhu
One random fact: Telugu was once described as the "Italian of the East" by merchant Niccolò de' Conti because of its poetic lilt, and because like the Italian language, most Telugu words end with a vowel sound.
---