Is Kamal Haasan India's next movie star-turned-politician?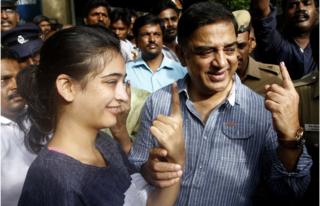 The stage seems set to witness the arrival of a new political leader in the southern Indian state of Tamil Nadu - Kamal Haasan.
And unsurprisingly, he's a film star. Three of Tamil Nadu's chief ministers until the recent past have been actors.
Haasan, 62, whom his fans call "Ulaga Nayagan" or "hero of the world", has said that he will enter politics and work towards becoming chief minister to right the wrongs of corruption and communalism in public life in Tamil Nadu.
He has also said that the people of Tamil Nadu must change and become more socially and politically aware.
That's a tall order given that Tamil Nadu has been wracked by political uncertainty since the death of its previous chief minister Jayaram Jayalalitha in December 2016.
Hassan's announcement that he will enter politics has led to intense speculation that he will float his own party and rejuvenate the moribund politics of Tamil Nadu.
If the state held assembly elections in "the next 100 days I will be there", said Haasan, who has been meeting politicians across the country in the last month.
In interviews following meetings with Kerala chief minister Pinarayi Vijayan of the Communist Party of India (Marxist) and Delhi chief minister Arvind Kejriwal of the Aam Aadmi Party, he has indicated that he is talking to politicians from different political parties for possible coalitions in the future.
Unlike his friend and rival, reigning Tamil superstar Rajnikanth, Haasan has, through the years, openly spoken of his affiliation for liberal politics. Rajnikanth said he would enter politics in May.
Haasan, however, has said that the two are friendly rivals who would behave like gentlemen in politics, and not resort to personal attacks like Tamil politicians have done in the past.
Haasan's public persona has been that of a right-thinking individual in a state rife with corruption, and sectarian and caste hostilities.
His profile as a liberal who challenges caste orthodoxies on public platforms and in his movies, and his call for humanism over religion in his films, marked a cultural shift from the cult of hero worship that stars such as Rajinikanth and MG Ramachandran (who later became the Tamil Nadu chief minister) enjoy.
Given the current vacuum in political leadership, Haasan's foray into politics has not been unwelcome despite what sceptics say.
Unlike Rajnikanth, who has more than 50,000 fan clubs, and a larger fan base that also constitutes a vote bank, Hassan's fan base of about 500,000 is seen as a lesser but well-organized, community-minded task force.
Haasan's fan clubs, known as Narpani Iyyakam or "movement for good deeds", have been associated with social welfare measures, and are not prone to the frenzy and cult-style worship that Rajnikanth commands.
A recent statement from the fan clubs read, "Kamal is not like the average politician who pretends before people, but has done a lot for society through the Iyyakkam".
His interviews in support of Indian Prime Minister Narendra Modi's Swachh Bharat Abhiyan (Clean India Campaign) and currency ban raised eyebrows.
"While he tends to be articulate, he has always been known to make obfuscating statements that rarely appeal to common folk", says a senior journalist in Chennai, the southern Indian city where Haasan lives.
"He's clever and articulate unlike Rajinkanth but his habit of speaking in riddles often sends mixed signals (which are) difficult to read by the average voter", says one political commentator.
Experts familiar with politics in Tamil Nadu point out that Haasan is also known to be a blunt speaker, often lacking the diplomacy that the tricky world of politics demands.
He is yet to list his ideas about how he would work on education, economics and employment in the state, or even clarify his plans to float a party of his own.
Haasan hails from an upper class Tamil Brahmin family of lawyers which has already thrown up two other National Award winning actors - Hassan's elder brother, Charuhasan, and his niece, Suhasini Maniratnam.
His accomplishments in the last 50 years are proof of his extraordinary talent. He made his first movie appearance as a child in 1960 and has since acted in more than 200 movies in many Indian languages, winning several prestigious national and international awards.
He has alternately been called a genius and an obsessive maverick.
He's skilled in Indian classical dance (Bharatanatyam) and music (Carnatic), and has sung in his own movies as well. A poet and a writer, he has also produced, acted, directed and written scripts for films.
Haasan's films have often courted controversy. He has explored themes from the war against terror (Vishwaroopam) to Muslim identity (Hey Ram) to humanism and the question of faith (Anbe Sivam, Dashavataram).
Can his appeal as an actor-turned-saviour bring him votes? Will the creative genius work his magic on the politics of the state? He certainly has confidence enough to announce his intentions, no small feat in an expectant state.
Sudha G Tilak is a Delhi-based independent journalist