India baby deaths: Eight infants die in one day at hospital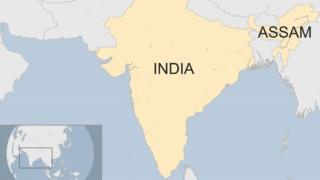 At least eight babies have died in just one day at a hospital in the north-eastern Indian state of Assam, officials have said.
Local residents in the town of Barpeta blamed poor infrastructure and negligence.
However, health authorities said it was a coincidence that the children, aged one day to two months, all died within the 24-hour period.
Assam has the second-highest infant mortality rate in India.
Assam's health minister confirmed that five infants had died at the Fakhruddin Ali Ahmed Medical College and Hospital in Barpeta since Wednesday. The hospital later confirmed another three babies had died.
Health Minister Himanta Biswa Sarma told news agency PTI the children had died "due to serious neo-natal medical complications and not due to human negligence".
"I have talked to the doctors concerned and they have categorically said that the infants could not be saved in spite of their best possible care," the minister added.
The deaths come a month after it was revealed that almost 200 children had died at two hospitals in Uttar Pradesh.