Godhra train fire: India court commutes death sentences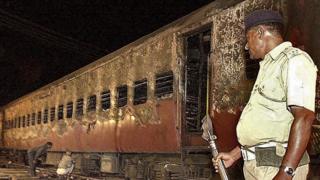 A court in the western Indian state of Gujarat commuted the death sentences of 11 Muslim men convicted of setting fire to a train in 2002, which killed 59 people, mainly Hindu pilgrims.
The attack in Godhra led to some of India's worst riots in which more than 1,000 people, mostly Muslims, died.
The court also upheld life sentences of another 20 men and rejected an appeal challenging the acquittal of 63 others.
Those acquitted by a special court in 2011 included the four main accused.
The court also ordered the Gujarat state government to pay the families of the Godhra train victims 1m rupees ($15,310;£11,660) as compensation because it said state and railway authorities had failed to maintain law and order.
The Sabarmati Express, carrying Hindu pilgrims returning from the northern town of Ayodhya, was attacked by a Muslim mob.
The attackers were said to have forced the train to stop, and then set fire to one of the carriages.
An inquiry commission set up by the state government said in 2008 that the burning of the train was a "conspiracy".
That commission also exonerated then Gujarat Chief Minister, India's Prime Minister Narendra Modi, over the deadly religious riots that followed the blaze.
He was accused of failing to halt the violence and some opponents said he indirectly encouraged some of the Hindu rioters.
But the commission dismissed these allegations.
The inquiry commission's findings contradicted an earlier probe by retired Supreme Court judge Umesh Chandra Banerjee, who found that the coach fire was not deliberately started.
He concluded in 2005 that the fire began by accident.
He said there was evidence to suggest the blaze began inside the train and that it was not fire-bombed.