The mysterious 'braid choppers' terrorising Kashmir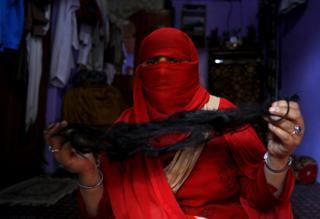 Tasleema Rouf, 35, was on the top storey of her house in Srinagar, the capital of Indian-administered Kashmir, when she says she saw a man's shadow.
Before she could react, she says, she was attacked. When she tried to scream for help, he tried to strangle her. She fell unconscious.
That's how her husband found her - lying on the floor, with some of her hair chopped off.
At least 40 instances of hair chopping have been reported in the state of Jammu and Kashmir since 6 September, sparking off hysteria and protests. The situation is so volatile that even schools and colleges were shut briefly.
This isn't the first time that "braid chopping" attacks have made headlines in India. More than 50 women in the northern states of Haryana and Rajasthan had reported in August that their braids were chopped off while they were unconscious.
But given Kashmir's volatile relationship with India's federal government, the attacks here have led to violence, vigilantism and allegations against both Indian security forces and separatists.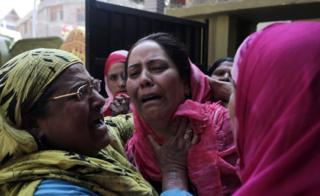 Little is known about who is behind the attacks. Most of the women said they were knocked unconscious and woke up to find that their hair had been cut. Some said their attackers wore masks. None of the women saw the culprits.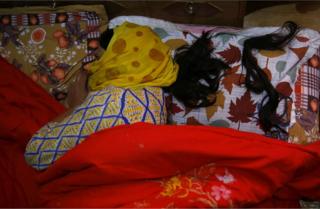 This woman, who didn't want to be identified, agreed to be photographed for this article lying next to her cut hair.
She says she was attacked outside her home early in the morning. Her gold chain was snatched, but the attacker did not take the braid that had been cut - as in every other incident, it was left behind.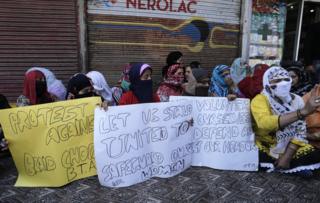 The so-called "braid chopping" has set off panic in the state, sparking several protests. India's ruling Hindu nationalist Bharatiya Janata Party (BJP), which shares power with the People's Democratic Party (PDP) in Jammu and Kashmir, has alleged that the "braid chopping" attacks are being used as a "new tool by separatists and anti-nationals to vitiate peace". It has demanded a judicial inquiry.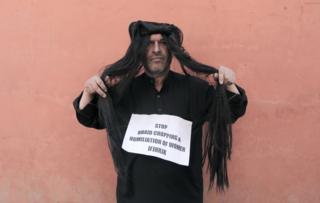 Activist Ahsan Antoo protested against the attacks, which are being seen as a "humiliation" of Kashmiri women. The opposition National Conference party accused the state government of failing to protect the "dignity" of their "mothers, daughters and sisters." Even militant group Hizbul Mujahideen has weighed in, alleging that this is a "ploy" by the Indian government to "counter militant attacks" as paranoid locals are now more likely to report militants passing through their village.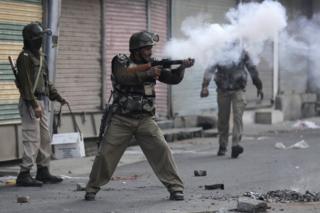 Protests have often ended in clashes between security forces and civilians. Amid the increasing pressure, Kashmir police have created a "special investigative team" to catch the attackers. They also announced a 600,000 rupee ($9,228; £7,000) award. But separatists accuse Indian security forces of planning these attacks to "intimidate" Kashmiris who are demanding independence from India.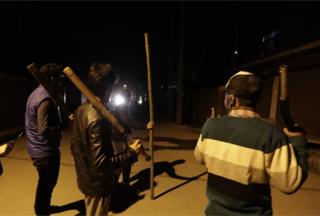 Young men across the state have also formed vigilante groups, with sometimes tragic results. Vigilantes killed a 70-year-old man who they mistook for a "braid chopper". Six foreign tourists, including a British national, were also threatened by a mob in Srinagar.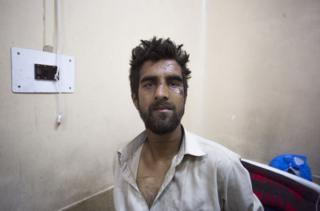 Waseem Ahmad was brutally beaten by a vigilante mob in north Kashmir because they suspected him of being a "braid chopper". He says they tried to burn him alive but he was rescued by the police.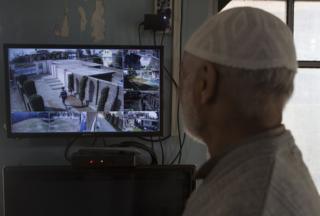 This elderly man, who spoke on the condition of anonymity, installed a CCTV camera in his home after he says his daughter-in-law's hair was chopped off on two different occasions over three days.
Abid Bhat is a photographer based in Srinagar.