India student arrested for murder of child at Gurgaon school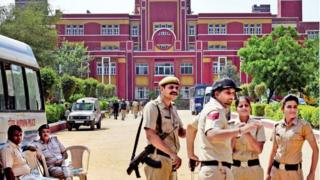 A secondary school student has been arrested in connection with the murder of a fellow pupil in north India.
The seven-year-old boy was killed in a prominent school in Gurgaon, near Delhi, in September.
Police had at first arrested a school bus conductor who they believed slit the boy's throat after trying to sexually assault him.
The senior student will appear before a juvenile court on Wednesday. His father has said he is innocent.
He told news agency ANI that his son had raised the alarm about the attack.
In September, Gurgaon police said the bus conductor had confessed to the crime, but the victim's father had sought a federal inquiry into the case.
The case was handed over to the Central Bureau of Investigation (CBI), which arrested the senior student on Tuesday evening.
A CBI spokesperson said initial investigations had revealed that the accused student "wanted to have the exams and a parent-teacher meeting in the school postponed".
The bus conductor is in prison.
The murder took place at the Ryan International School.
Two senior officials at the school were also arrested in September in connection with the killing.