'Killfies': Indian state campaigns against deadly selfies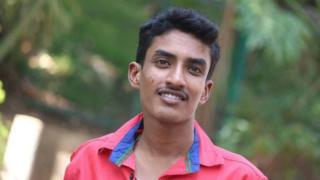 Authorities in the southern Indian state of Karnataka are working on a campaign to warn people that "selfies can kill". The move comes after the deaths of four students in recent months in selfie-related incidents, writes the BBC's Geeta Pandey in Bangalore.
On a sunny Sunday morning in September, about two dozen college students visited a beautiful temple dedicated to Gundanjaneya, or the monkey god Hanuman, about 30km (19 miles) from the city of Bangalore.
Warning: A photograph below may be distressing to some readers
Built in 1932, the temple in Ramagondlu village is a big draw with pilgrims as well as students from nearby colleges.
The teenagers, who were part of the Indian military's NCC cadet corps, spent the entire morning cleaning and beautifying the temple premises.
At noon, as the temperature rose, they decided to take a dip in the temple pond.
"They were all very happy, laughing, shouting, taking selfies," local shopkeeper Manjunath told me when I visited the temple last week.
But the day ended in tragedy. One of the students, later identified as Vishwas G, drowned in the 15ft-deep pond.
In one of the selfies the boys took, the top of the drowning teenager's head is clearly visible - but they are looking in the other direction at the camera.
No one noticed him and it was only an hour later that his friends became aware that he was missing. His body was recovered three hours later by the police and local people.
A few weeks later, in another tragic incident just an hour's drive from the temple, three teenagers were run over by a train while trying to take a selfie.
"I was going to drop my cousin to school and I passed this way at about 08:15 and it was all quiet then," said engineering student Sharad Gowda, who lives in a nearby village and took me down to the tracks to explain the incident.
"When I returned half an hour later, there were about 100 people here so I came down to see what was happening.
"There were body parts strewn about everywhere. Some people said they were lying down [on the tracks] to take a selfie and that's why they didn't see the train approaching.
"It was the birthday of one of the boys."
The two incidents shocked Karnataka and the state government wants its young people to think more carefully about the circumstances in which they take selfies, in case they become "killfies".
"We are working on putting up new signage at tourist sites in 11 districts," Karnataka Tourism Minister Priyank Kharge told the BBC.
"These will also have messages saying selfies can kill. We will also be launching a social media campaign in a couple of weeks that will go out on Facebook, Twitter, Instagram and other platforms, warning people of the dangers of killfies."
India has more than 1.1 billion mobile phone subscriptions and more than 300 million people use smartphones.
Experts say youngsters obsessed with social media are going to extreme lengths in the quest for perfect selfies, often becoming reckless and taking unnecessary risks. Many cases involve young men.
According to a study by researchers from Carnegie Mellon University and the Indraprastha Institute of Information in Delhi, India has recorded far more selfie-related deaths than any other country in the world in recent years.
Of the 127 global selfie deaths the researchers identified between March 2014 and September 2016, 76 occurred in India and most of the victims were reported to be young people.
They defined a selfie-related fatality as one which "could have been avoided had the individual(s) not been taking a selfie".
People have died taking selfies after being hit by trains, falling from a height, drowning in rivers, lakes and ponds, or being washed away at dams and on the seashore.
In June, police in the northern Indian town of Moradabad threatened to send selfie-addicts to jail if they took pictures on railway tracks or flyovers, or while travelling on buses.
And last year, police in the western city of Mumbai began installing signs saying "no selfie zone" at popular tourist spots after an 18-year-old girl drowned in the sea while taking a selfie.
But Mr Kharge, the state tourism minister, says it is very difficult to demarcate "no-selfie zones" because tragedy can strike anywhere.
"Every place is a potential threat. It can happen at a popular tourist spot like the Nandi Hills or a dam, but it can also happen on the train tracks or even in your balcony. A small misstep can be fatal.
"Through our campaign, we're going to tell people it's good to have a smartphone, but you must use it smartly."