The unknown Indian woman doctor on Google Doodle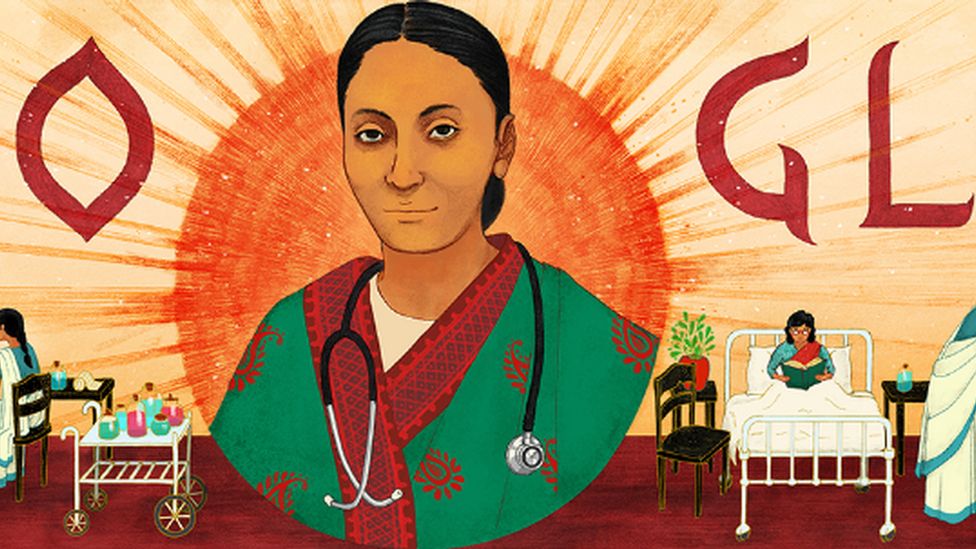 Google surprised Indians on Wednesday, when it published a Google Doodle of Rakhmabai Raut, one of British India's earliest practising women doctors, to commemorate the 153rd anniversary of her birth.
This had many in India asking who was Rakhmabai Raut? Before the doodle appeared on screens across the country, India's first female doctor was often recognised as Anandibai Joshi. But while Joshi was the first to study medicine, which she did in the United States, she died at 22 before she could formally practise.
Raut became a doctor when modern medicine was in its infancy, which is noteworthy. Even in Britain, which established the first medical college for women in 1874, there weren't many women practising doctors at the time.
Her life in India was certainly unusual, as women were mostly confined to the home at the time, which makes her achievements all the more striking.
Why was Rakhmabai Raut in court?
Raut was born in Mumbai (then Bombay) in 1864. Her mother, a widow, got her married at the tender age of 11. But she never went to live with her husband and continued to stay with her mother. Many found this very unusual, and this is reported to have created a huge scandal at the time. Undeterred, Raut took her husband to court, where the two were engaged in a long legal battle over the status of their marriage.
When her husband asked the Bombay High Court for "restitution of conjugal rights", she claimed that she couldn't be forced into a marriage that she never consented to because she was so young. Ultimately, the court case resulted in the affirmation of the marriage. But not quite done yet, Raut wrote to Queen Victoria, who overruled the court and dissolved the marriage.
The case was extensively followed in Britain, where it attracted press and made appearances in women's magazines.
A rather radical turn of events, the publicity from this incident and Raut's petition to dissolve her marriage was a major factor in the enactment of the Age of Consent Act, 1891, which raised the legal age for sex for girls in British India from 10 to 12.
Her rebellion against her husband marked Raut as a crusader against child marriage, but it also ostracised her from the larger Indian community around her.
It is worth noting that at the time of the court case, it was widely believed that Raut wrote two articles to the Times of India under the pseudonym "A Hindu Lady", which were critical of the roles women were forced to play in Indian society.
Where did she study medicine?
Raut's mother later remarried, and it was Raut's stepfather, a surgeon named Sakharam Arjun, who encouraged her to pursue further education.
"Her stepfather identified her talents and skills early on, challenged societal norms and helped her follow her dreams," said Dr Swapna Patker, a clinical psychologist and producer of a forthcoming film based on Raut's life, called Doctor Rakhmabai.
Soon after her marriage was dissolved, Raut enrolled at the London School of Medicine for Women in 1889. After graduating in 1894, she was a qualified doctor and returned to India to practise.
But the societal stigma that surrounded her when she left was still there. "Women who knew her and people she had grown up around decided they wouldn't be treated by her," said Dr Patker.
She quit her first job at the Cama Hospital in Mumbai, which is still open today, and moved to Surat to continue her work. She eventually returned to Mumbai, and retired around 1930, after practising medicine for a total of 35 years.
In spite of her many achievements, Raut is a relatively unknown figure in Indian history.
Anant Mahadevan, the director of Doctor Rakhmabai, said that he was surprised by how many people had never heard of her.
"This is why we decided to make a film on Rakhmabai's life," he told BBC Marathi's Anagha Pathak.
"She was the first Indian rebel. Her whole journey is truly inspiring."