India papers leave blank spaces in protest at journalist killing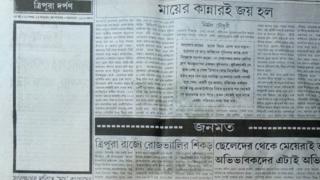 Newspapers in the north-east Indian state of Tripura ran blank editorial spaces on Thursday in protest at the murder of a journalist, allegedly on the orders of a senior law enforcement official.
Commandant Tapan Debbarma of the Tripura State Rifles was arrested on Wednesday on charges he ordered his bodyguard to shoot Sudip Dutta Bhaumik.
The incident happened outside Mr Debbarma's office where Mr Bhaumik was attending a meeting on Tuesday.
His editor, Subal Kumar Dey, said Mr Bhaumik was killed over his reports.
Mr Dey told journalists that Mr Bhaumik's "only crime" was he had exposed a number of financial irregularities and corruption cases.
Most newspapers in the state ran blank editorial spaces in protest.
Political parties in the state also called for a one-day shutdown to protest against Mr Bhaumik's death, which meant that schools, colleges and many offices were shut.
The soldier who allegedly shot Mr Bhaumik has also been arrested.
The murder comes months after prominent journalist Gauri Lankesh was shot dead by unknown assailants in the southern city of Bangalore.