Padmavati: India's Supreme Court rejects bid to block Bollywood epic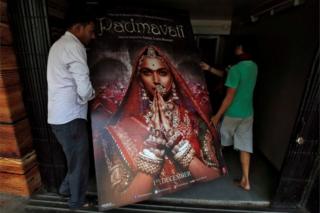 India's top court has rejected an appeal by a lawyer to block the global release of Bollywood film Padmavati.
The film, which tells the story of a 14th Century Hindu queen and a Muslim ruler, has sparked nationwide protests by Hindu and caste groups.
The lawyer who brought the petition had previously failed in an attempt to prevent the film's release in India.
The film cannot be released in India until censors have cleared it. No date for release anywhere has yet been set.
Padmavati tells the story of a 14th Century Hindu queen belonging to the high Rajput caste and the Muslim ruler Alauddin Khilji. Bollywood stars Deepika Padukone and Ranveer Singh play the lead roles.
Hindu groups and a Rajput caste organisation allege that the movie, directed by Sanjay Leela Bhansali, depicts an intimate romantic scene between the two characters, although the producers of the film deny this.
The Supreme Court on Tuesday dismissed a petition by the lawyer, ML Sharma, to delay its release abroad. It said such a move would amount to a pre-judgement of the Indian film censor.
The judges said those in public office should not criticise the film, as this too would erode the job of the censor board.
Rumours of a scene in the film of the Muslim king dreaming of a romantic tryst with the Hindu queen have enraged many, including the Rajput Karnik Sena, a fringe caste group that has called for the film to be banned.
The group had disrupted shooting and one member had slapped Bhansali on the set earlier this year. Others vandalised cinemas and threatened to chop off Padukone's nose, referring to an incident in another epic, Ramayana, where a character has her nose cut off as punishment.
The group also held protests against the film in several states, including Rajasthan, Uttar Pradesh and Haryana, which are ruled by the Hindu nationalist Bharatiya Janata Party.
Rajput community members have burned effigies of Bhansali.
Rajasthan Chief Minister Vasundhara Raje has said the film should not be released until "necessary changes are made so that sentiments of any community are not hurt".
A regional leader of the BJP also announced a reward of nearly $1.5m (£1.3m) for anyone beheading Bhansali and Padukone.