Inquiry after India students 'stripped for punishment'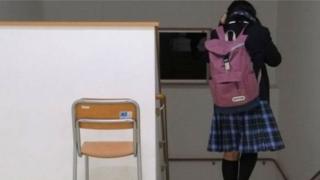 Students of a girls' school in the north-east Indian state of Arunachal Pradesh were forced to undress as a form of punishment, police say.
The students had allegedly written notes about the male principal and a female teacher having an affair.
The incident came to light after a local student union lodged a police complaint on 27 November.
The union alleges that 88 students were forced to undress, but police say only 14 were punished this way.
Three teachers, all of them women, have been named in the police complaint by the union. Police say that individual victims have not approached them.
No arrests have been made yet. "We want the police to take strict action against these teachers," Teli Runghi, president of the student union, told BBC Hindi.
Although not as common as corporal punishment, it is not unusual for stripping to be used as a form of punishment in Indian schools.
In March, parents were horrified to learn that 70 girls aged about 10 were stripped naked in a residential school in the northern state of Uttar Pradesh to "check for menstrual blood".