India sexual abuse: 'Four child victims every hour'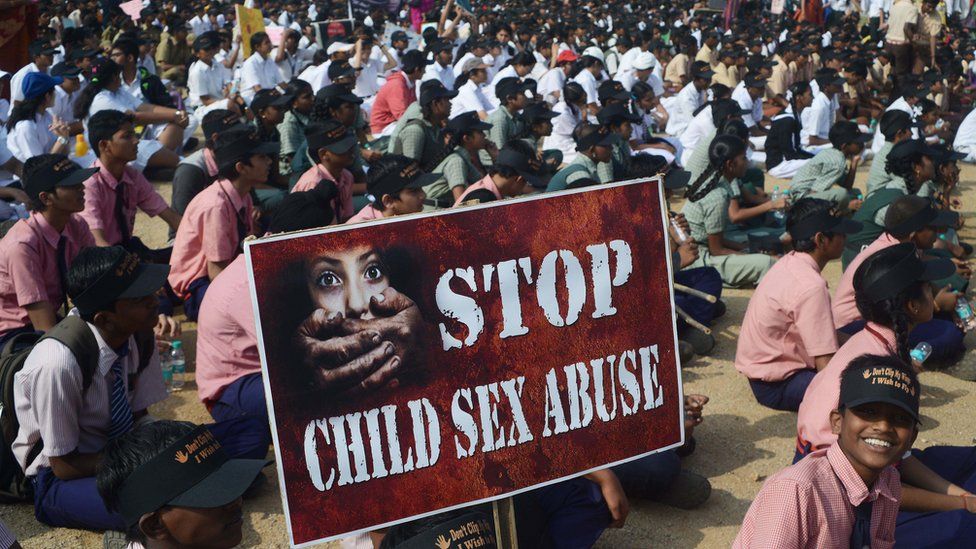 In India, a child is sexually abused every 15 minutes, according to the latest government figures.
The National Crime Records Bureau report, released on Thursday, shows a steady rise in incidents of offences against children.
Child sexual abuse has been in focus in recent months after the case of a 10-year-old rape victim who was forced to give birth hit the headlines.
Two of her uncles were sentenced to life in jail for raping her.
According to the report on crimes in India for 2016, released by Indian Home Minister Rajnath Singh in Delhi, 106,958 cases of crimes against children were recorded in 2016.
Of these, 36,022 cases were recorded under Pocso (Protection of Children from Sexual Offences) Act.
The BBC's Geeta Pandey in Delhi says India is home to the largest number of sexually abused children in the world, but there is general reluctance to talk about the topic so the real number of cases could be much higher.
According to a 2007 study conducted by India's ministry of women and child development, 53% of children surveyed said they had been subjected to some form of sexual abuse.
Campaigners say most of the abusers are people known to the victims, like parents, relatives and schoolteachers.