Rajasthan attack: India arrest over 'love jihad' killing video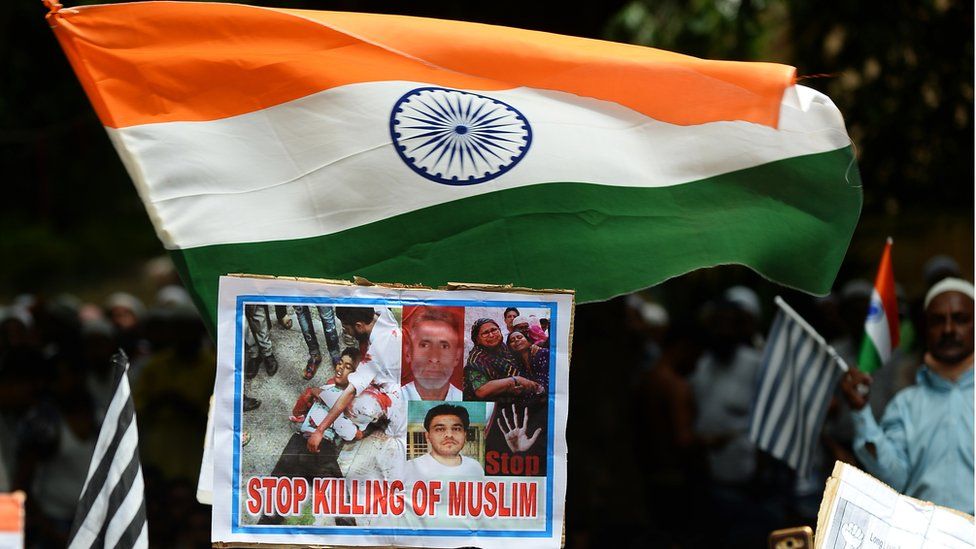 Police in the western Indian state of Rajasthan have arrested a man who allegedly hacked another man to death and set him alight before sharing video of the apparent religious attack.
In a second video, the man is seen justifying the incident to "protect the honour of Hindus against Muslims".
Police have identified the suspect as a Hindu. His victim was Muslim.
Internet services have been suspended in parts of the state and people have been urged to stop sharing the video.
Police have been deployed in large numbers to keep the peace.
It's not clear when the attack happened.
In the video, the suspect Shambu Lal warns Muslims, saying: "This is what will happen to you if you do 'love jihad' in our country."
The term has been popularised by radical Hindu fringe groups, who accuse Muslim men of participating in a "conspiracy to turn Hindu women from their religion by seducing them".
Senior police official Anand Srivastava told BBC Hindi's Dilnawaz Pasha that the man had shared several "hateful" videos on social media.
He added that police believed the accused and his victim did not know each other and had no history of animosity.
The victim, Mohammad Afrazul, who worked near the city of Udaipur, had been living there for more than 10 years.
"We have found that nobody from Shambu Lal's family had an inter-religious marriage. He has used inflammatory statements in these videos. To avoid any violence, we have been organising meetings between the two communities," Mr Srivastava added.