London mayor Sadiq Khan says UK must apologise for India massacre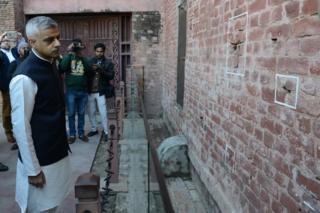 London Mayor Sadiq Khan has said the British government should apologise for a 1919 massacre of hundreds of unarmed Indian protesters.
He is the first high ranking British official to call for an apology.
Mr Khan made the statement on Tuesday on a visit to Jallianwala Bagh, the site of the massacre, in the north Indian state of Punjab.
The massacre is one of the bloodiest in British history. India has demanded an apology for decades.
Mr Khan, who is on a visit to India and Pakistan, also tweeted from his official account saying the British government must apologise.
The massacre occurred on 3 April 1919 in the town of Amritsar.
Hundreds of Indians, including women and children, were attending a public meeting in a walled garden, known as Jallianwala Bagh, to protest against colonial laws.
While the meeting was under way, British army colonel Reginald Dyer entered the garden with his troops and ordered them to fire into the crowd.
All the exits were blocked by the troops and protesters had nowhere to escape. The killings sparked outrage across India and abroad.
Nearly 100 years later, it remains a controversial subject as many British dignitaries, including Queen Elizabeth and her husband, Prince Phillip, and former prime minister David Cameron, have visited Jallianwala Bagh to pay their respects.
Although he stopped short of offering a formal apology, Mr Cameron had described the massacre as "a deeply shameful event in British history".