The China-India row that spells disaster for flood victims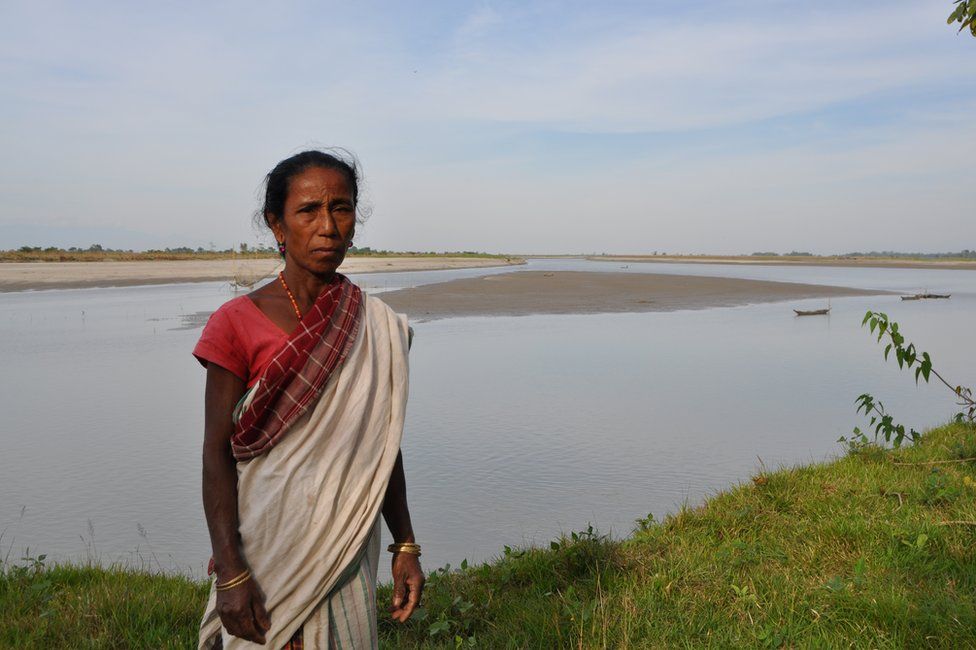 "This river has displaced me five times already," Bimati Hajarika says, pointing at the Brahmaputra river in the north-eastern Indian state of Assam.
"My past four villages remain under those waters there," the 60-year-old adds.
After being driven out of four different homes by the floods, she now lives in a makeshift hut erected on bamboo pillars. But she is anxious that her home is once again under threat.
"I don't know where I would go if the river floods again."
Many villages the BBC visited in the state had similar stories. Elderly villagers pointed at the water to show where their villages once stood before floods displaced them, again and again.
Fear of flooding has been growing in the state ever since upstream China stopped sharing river data crucial for issuing early warnings.
The data, which relates to the movement, distribution and quality of water, provides information on the water level of the river to alert downstream countries in case of flooding.
"We came to know about the Chinese decision through media reports and we have been very worried ever since," said Sanjiv Doley, a resident of Dhansirimukh village.
Until now, they were always prepared for floods, he said, including evacuating villages. "Imagine what could happen now that we will not be receiving any information from China," he said. "None of our villages will be safe."
The Brahmaputra river, one of Asia's biggest, originates in the Tibet Autonomous Region in China, flows into India and then enters Bangladesh before emptying into the Bay of Bengal.
The river floods large parts of the state every year, displacing tens of thousands of people. Nearly 300 people died this year alone due to flooding in the state.
A bilateral agreement between India and China requires the upstream country - China - to share hydrological data on the river during the monsoon season, between 15 May and 15 October.
But Indian officials said in August that they have received no data for this year.
Chinese authorities said in September that they had no data to share at that point because their hydrological stations, which record the data, are being upgraded. That was the last statement they made on the issue.
But the BBC found that despite its statement, China was still sharing data on the same river with Bangladesh, the lowest downstream country in the Brahmaputra basin.
Anisul Islam Mohammad, Bangladesh's water resources minister, told the BBC in September that his country was receiving hydrological data from China.
Chinese authorities did not respond to the BBC's request for their latest comment. It remains unclear if and when they will resume sharing data with India.
Locals told the BBC that the floods were devastating enough while China was still sharing information, increasing their fears that things might be a lot worse if Indian officials have no access to data that could help them prepare in advance.
"China has never been open about what it is doing upstream of the Brahmaputra," said Ashok Singhal, member of Assam's legislative assembly, who also leads the "save Brahmaputra" campaign.
"I have asked several times for permission to visit the river upstream in Tibet but I have not been permitted to go (by China)."
The Chinese government has constructed several hydropower dams on the Brahmaputra, which is known as Yarlung Zangbo in Tibet.
But the country insists that it does not store or divert water, and will not do anything that goes against the interest of downstream countries, such as India or Bangladesh.
Assam's officials, however, say they have spotted worrying signs. Flooding, according to them, has become more frequent since May when China stopped providing river data.
"Earlier we used to have one or two rounds of floods during monsoon but this time, we have even had a third and fourth round of floods without rainfall in the upstream part of the river," Himanta Sarma, the state's finance and health minister, told the BBC.
"You need to see all this in the backdrop of the Doklam conflict," he added. He was referring to the border standoff between China and India earlier this year.
Scientists in Assam said India was not doing enough to address the problem - such as setting up its own hydrological stations in the international border area (between China and India) to monitor the river.
"There has been no discussion between scientists, politicians and bureaucrats," Professor BP Bohara, a geologist at Guwahati University, said.
India too has been accused by countries further downstream, such as Bangladesh, of ignoring their concerns.