The Indian artist behind a climate change warrior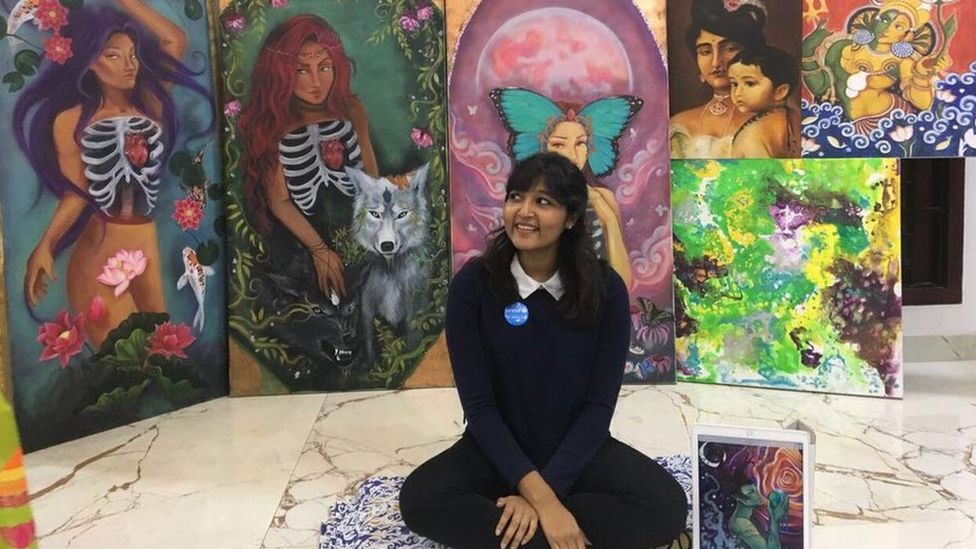 A 21-year-old artist from Chennai (formerly Madras) in southern India is the winner of the first ever Unicef Climate Comic Contest for creating a character that is half-human and half-tree.
Sathvigha Sridhar, a fresh graduate in visual arts, hadn't really considered producing a comic book. But when her sister found a call out for the contest on Instagram and encouraged Ms Sridhar to apply, she knew she had to do it.
The contest, created by Unicef and its partner Comics Uniting Nations, received nearly 2,900 submissions by young people from 99 different countries. More than 21,000 votes were cast to determine the winner. "The tremendous level of engagement sends a loud message to world leaders that young people take the threat of climate change seriously," said Unicef communications director Paloma Escudero in a press release.
"I submitted my application twenty minutes before the deadline, and hoped that what I had was enough," Ms Sridhar told the BBC, adding that she was "very excited by the superheroes theme".
Her creation, which goes by the name Light, will come to life in a comic that will be published and released early next year.
The story is set in 2025, by which time "man has burnt through all the oil reserves, the ice caps have melted and islands are getting submerged," she said.
A rogue scientist decides to do something about it, and injects an embryo with DNA from a plant. And this is how the superhero Light is born, whose powers include the ability to breathe in carbon dioxide and breathe out oxygen.
"Essentially, he can mimic the process of photosynthesis." This, she said, allows the character to empathise with and form a connection to nature.
When she began sketching out her idea, she drew inspiration from recent environmental calamities in India and wanted a superhero that represented a creative solution. "Chennai has seen its share of climate change problems," she said.
"We are still dealing with the effects of floods and cyclones that have destroyed so many lives and trees in the past few weeks."
In the past, Chennai has experienced frequent disarray due to flooding and heavy rain fall. Earlier this month, Cyclone Ockhi swept across southern states in India, and hundreds of fishermen remain missing in the aftermath of the storm. And devastating rainfall in Chennai two years ago killed over a hundred, and brought the city to a standstill.
Ms Sridhar doesn't think a cartoon is going to solve these problems but she hopes that her character sparks further dialogue around the issue, especially among children and younger people.
"The choice to make him half-human and half-tree was important," she said, adding that "in a sense, this allows him to see both sides of the human development versus natural resources argument when it comes to climate change."
She hopes that once the comic is published next year, it can be distributed to classrooms. "I want it to be accessible to children - I think it's an issue that is often heavy to understand, and so maybe in a comic, it can be fun and interesting," Ms Sridhar said.